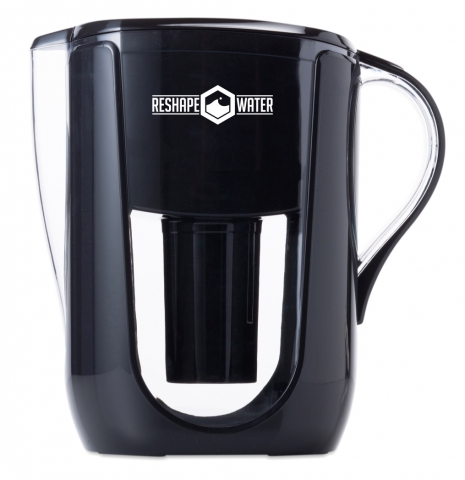 - January 26, 2017 /PressCable/ —
Reshape Water , launched in 2016, is releasing the first of its line of products in February 2017. The company focuses on high Alkaline water filters, combined with technology that creates negative ORP (Oxidation Reduction Potential) and activated carbon in order to deliver clear, healthy, great tasting water right from home.
After months of research and development, Reshape Water is introducing its proprietary water filter pitcher, a 3.5L capacity high-impact ABS plastic pitcher. This pitcher is designed to fit in any sized refrigerator and can filter up to 79 gallons before the filter needs replacing. Each pitcher comes with 2 replacement filters and a topside digital counter in order for clients to track when their filter requires replacing.
"We're excited to watch this brand go. This industry is experiencing an upwards trend with all the recent tap water issues around the country. We have some of the best filters out there, with lab tests to prove it" explained Peter Louis, founder and President of Reshape Water. "Our goal is offer our customers an extremely high quality product they can use for years, and feel confident that they are getting the best filtered water possible. We want to take the guess work out of drinking healthy water." He added.
The market for Alkaline Water Filters is growing as more and more consumers research the poor quality of what comes from their tap. Most municipal water systems provide perfectly good water, but it often contains fluoride or other additives that consumers should be aware of. Additionally, as the water makes its way through the outdated water systems of the city, it collects particulate matter and heavy metals from some of the older metal pipes. By the time it reaches the house's tap, it looks nothing like it did when it left the treatment plant.
Reshape Water has designed its filters to address not only the heavy metals and additives (which it removes or reduces to safe levels), but its gone a step further in adding back into the water what healthy water needs – minerals. The benefits of alkaline and ORP water are well proven, adding trace amounts of Magnesium, Potassium, Calcium and Sodium to the water. Additionally, the filters from Reshape Water include negative hydroxyl ions which lowers the Oxidative Reduction Potential (ORP). Negative particles are used in the highest quality water filters in order to produce negative ORP. These act as antioxidants attaching themselves to positively charged free-radicals in the average body.
Reshape Water's newest pitcher will retail for $59.00 and come with 2 replacement filters lasting at least 4 months. Also available will be replacement filters in 2 and 5 packs.
For more information about Reshape Water and their advanced water fitlers, visit: http://www.reshapewater.com/
——————-
RESHAPE WATER – San Diego, CA
Release ID: 164806