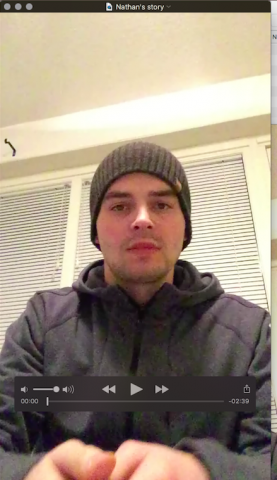 - January 18, 2017 /PressCable/ —
Nathan Deck is a professional hockey player and he's had four concussions during his career. The last one was September 2016. At first he went through the usual protocol of rest. He'd experienced his third concussion almost exactly two years earlier which ended his season and almost his career.
This time around he felt that there had to be a better way to deal with Post Concussion Syndrome (PCS) and he searched Youtube with the words, "concussion help." There, among all the results, he found Dr. Joanny Liu speaking in one of her many videos about the possibility of healing a concussion much quicker than usual. He contacted her and they began to work together on his PCS.
Nathan is well on his way to fully recovering from his brain injury in just a few weeks. He's back on the ice with his teammates and is preparing to return to regular play. This is due to the psychological approach that Dr. Joanny uses with all her clients who come to see her.
According to Dr. Richard Davidson of the University of Wisconsin, "the trained mind, or brain, is physically different than the untrained one." Dr. Nigel S. King, Head of Clinical Neuropsychology at the Community Head Injury Service in Aylesbury, U.K. said that "The psychological effects of traumatic brain injury (TBI) provide a major challenge to rehabilitation services." And that "Mild organic dysfunction is not uncommon in the early days following mild head injury and during the subsequent few months. During this time psychological features can develop and/or pre-existing psychological vulnerabilities may be activated. The effectiveness of brief, early psychological intervention may predominantly stem from minimising the impact of unhelpful beliefs and behaviours surrounding the syndrome."
Dr. King called for more research using psychological treatments to be done and that's why Dr. Joanny Liu's pilot research project called "Hope For Millions With Brain Injury" is so important. Unless psychological factors are dealt with quickly, recovery will continue to be slim for those who suffer from prolonged PCS. He agreed that "It is therefore essential that patients with persisting and disabling post-concussion symptoms receive individualised formulations of their particular problems."
Proof of what the mind can do abounds. Most notable are these examples:
Stephen Hawking, famous English theoretical physicist, cosmologist, author and Director of Research at the Centre for Theoretical Cosmology at the University of Cambridge, just turned 75 years old. In 1963, Hawking contracted motor neurone disease and was given two years to live. Yet none of that stopped him from doing what he wanted and he is still alive and doing well in spite of his severe physical limitations.
The trio of Win Charles, Juan Carlos and Danielle Coulter is remarkable because they each have cerebral palsy. This condition has not stopped them from striving forward in their lives. Most notable of their achievements is a podcast called Butterflies of Wisdom, where they broadcast several times a week. The battle cry is to celebrate life.
Dr. Joe Dispenza, of the movie, "What the Bleep Do We Know" and author of "Evolve Your Brain: The Secret of Changing Your Mind," had a horrific accident which resulted in severe spinal cord injury. His doctors' prognosis was not good and without the recommended surgery, he was told he would become paralyzed from the waist down. Dr. Dispenza made a full recovery without surgery because he made a decision to focus sharply on healing his body. Today, Dr. Dispenza says that "the brain cannot change itself without an operator." The operator is the owner of their brain.
To find out more about Dr. Joanny Liu's pilot research project and donate, go to Hope For Millions With Brain Injury.
To hear Nathan Deck talk about his story, watch his video in Youtube.
To learn more about Dr. Joanny Liu's practice, please visit her at her website, www.drjoanny.com
Release ID: 161571