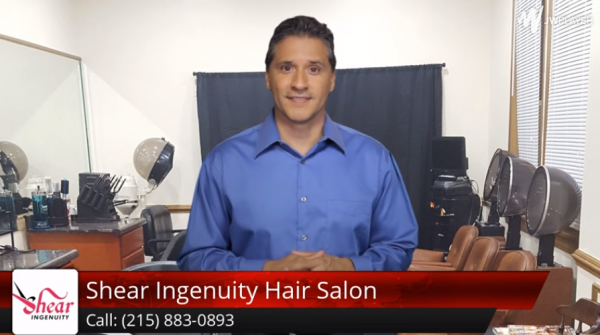 - June 12, 2016 /PressCable/ —
For people looking for a new hair salon in Philadelphia , Reputation Media TV has recently released a new video commercial from one of the satisfied clients of Shear Ingenuity Hair Salon, Vanessa W. Shear Ingenuity wanted to show how much pride they take into their work so they memorialize their client's review by creating a commercial out of it
This new video review can be viewed at this link: http://www.reputationmedia.tv/reviewcommercial/shear-ingenuity-hair-salon-philadelphia-great-5-star-review-by-vanessa-w/.
At Shear Ingenuity, a client will always hear a friendly voice when they call, and see a friendly smile when they step through the doors. They are committed to creating a positive environment for each client to relax and enjoy themselves. Ramika Guillory and her team at Shear Ingenuity Hair Salon are very knowledgeable, "The stylists are educated in the newest trends and techniques. Hair care is essential and they use the best hair care products.", said Vanessa.
The stylists at Shear Ingenuity hair salon also know that there are hair care products available from many sources, but the best quality products are those carried at their location ranging from high quality selections of Mizani, Jane Carter Solution, All Nutrient Certifiably Organic Hair Color, Kera Care and Design Essentials.
"We take pride in our industry and it is our objective to provide each client with the highest quality service available.", says Ramika. So regardless if a client is interested in getting the latest trendy hairstyle, or something a little more classic and simple, Shear Ingenuity can provide an exceptional concept of beauty perfectly suited for any taste.
Shear Ingenuity's expertise is healthy hair care and they focus on helping potential clients enhance their natural beauty. For those that want to learn more, they can simply go to www.shearingenuityhairsalon.com where they can book an appointment, see their latest work and learn about their stylists. They can also call them at 215-883-0893 and speak to Ramika Guillory personally.
Owner of Shear Ingenuity, Ramika Guillory says "Honest reviews of our business are always welcome. We are happy to service clients, because they are the key to our success, and we create a masterpiece with each client that walks out of our doors.".
Release ID: 119099