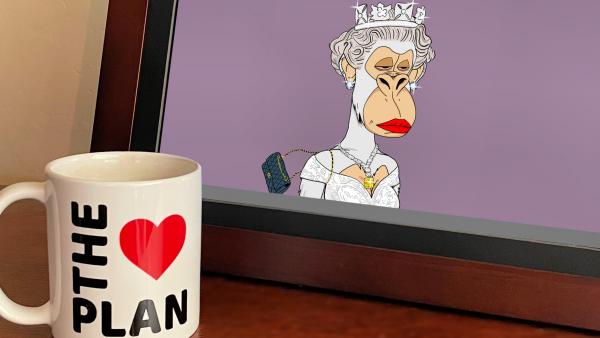 - November 10, 2021 /PressCable/ —
This week, Dan Hollings, leading Internet Strategist and creator of the globally recognized crypto training program, "The Plan," makes one of the most strategic moves in his career. He aped in on "The Queen."
Hollings, an avid NFT collector of the 10,000 strong female focused
Desperate ApeWives
(DAW) collection, already holding 130 total, has just added the #1 most sought after ape wife –
The Queen
. Purchased by Hollings for $70,000 shortly after their initial release, it is said to be worth millions and may soon be displayed in a museum – the DAW community of some 50,000 members including
@DezBryant
Famous Football player who bought 4 Apewifes tweeted. "The Queen" made a rare appearance and everyone is going ape!
Other rare collectable Non-Fungible Tokens (NFTs) in Dan's collection include: Kylie Jenner LA Ape Wife, CryptoPunks Bored Ape Yacht Club, Mutant Ape Yacht Club, ArtBlocks, MoonCat Rescue, Cool Cats and others.
In addition to this, his work with The Plan has welcomed thousands through his courses in over 100 countries, and he has previously been most well-known for his work with the world-renowned book/movie, "The Secret." Dan has also co-authored:
One Coin, Two Coin, What Coin? Bitcoin: Crypto for Grownups Made as Easy as Child's Play
. Now he is known as the man who can truly be trusted to take anyone from newbie to pro without ever learning how to trade – not to mention earning the NFT community respect as being one cool top collector.
Dan Hollings is the strategist who helped "The Secret" book/movie a mega-hit online viral phenomenon. In addition, he has devoted his life to helping people make money online including Amazon. In the world of Crypto, Dan is known as the guy that "Cracked The Code" by simplifying how people invest and maximize returns with out learning to trade, what he calls the "Full-throttle HODL." From DeFi to NFT's, to Futures, to Grid Trading, Dan excels in safe strategies with maximum ROI. In addition, he is the creator of the world-renowned course called "The Plan".
About Desperate ApeWives:
Inspired by the award-winning television series "The Desperate Housewives," DAW is a collection of 10,000 Desperate ApeWives NFTs available on OpenSea. With signature red lips each Ape Wife is not only an awesome fine art JPEG, it's also an exclusive DAW membership card that allows access to members-only benefits which will be revealed over time. As part of the DAW roadmap development, their vision is to bridge the NFT space with the physical world, one of the many pros is that ownership and commercial usage rights are given to the owner, over their NFT.
Release ID: 89052121