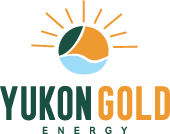 - February 21, 2022 /PressCable/ —
Yukon Gold Energy's latest launch offers clients a comprehensive range of renewable energy resources. The company specializes in facilitating cost-effective modular growing stations, wind turbine farms, and solar power plants for both public and private customers across Western Canada.
More details can be found at http://www.yukongoldenergy.com
The announcement details an extensive array of sustainable energy services to help Canadians take the vital first steps towards a future powered by renewable and environmentally power sources. Clients can benefit from Yukon Gold's expertise and dedication to ensuring the switch to clean energy is as smooth and hassle-free as possible.
According to Statistics Canada, electricity generation from renewable sources increased by 3.5% in 2021 to around 44.1 million MWh. This accounted for just over 71% of Canada's electricity mix last year, demonstrating the growing trend towards wind, hydro, and solar power sources. Clean Energy Canada has forecasted the clean energy sector's GDP to grow 58% by 2030 with renewable expected to make up around 30% of the country's total energy expenditure within the next ten years.
Yukon Gold Energy offers low-cost installations and can advise clients on a variety of government-backed tax incentives to help finance clean energy equipment. Some initiatives enable consumers to share their excess power with the national grid, providing another way to meet the initial investment costs of renewable energy apparatus.
Wind turbines are an increasingly common sight across the Canadian landscape. Yukon Gold Energy provides years of experience in design, planning, and logistical support for wind farms. On a smaller scale, solar power is the most accessible approach for new customers with the team providing turn-key set-up of panels as well as ongoing maintenance and performance monitoring.
About Yukon Gold Energy
Established in 2020, the company in Yukon Territory and Western Canada, garnering a reputation for reliability, safe practice, and transparent pricing for its large customer base. Yukon Gold Energy is a division of Yukon Gold Development Corporation – an organization that is committed to building a sustainable future for the region. Learn more at http://www.yukongoldenergy.com/about
A spokesperson says, "Renewable energy systems can allow you to go off-grid and gain complete energy independence. Escape the continuously rising prices and transmission fees that utility companies are charging."
With its latest service updates, Yukon Gold Energy is making sustainable power systems an affordable reality for homeowners and businesses in western Canada.
For more information, please visit http://www.yukongoldenergy.com/services
Release ID: 89064975