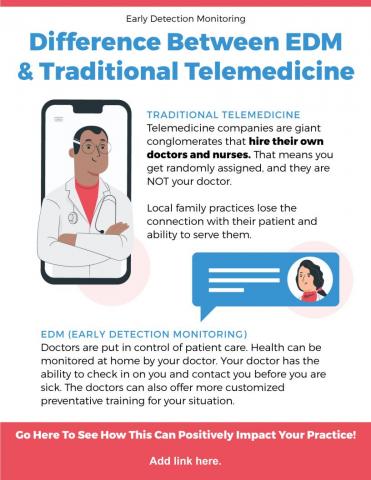 - September 21, 2020 /NewsNetwork/ —
The Early Detection Monitoring System (EDM) is now available in an updated version, offering a safe, convenient and effective way for health practitioners to monitor the health of their patients. The system is designed as a comprehensive set of telemedicine tools that improve the quality of the medical act while adapting it to the restrictions imposed in light of the current pandemic.
More details can be found at https://www.compensatoryhealth.com.
The latest announcement aims to respond to the increased demand for remote patient evaluation, diagnosis and monitoring solutions. Healthcare providers throughout the world are looking for new ways to connect with their patients in a way that makes the care process both safer and more convenient.
EDM places the healthcare practitioner in control of patient care by addressing one of the main issues of standard telemedicine: removing the patient's current doctor from the care process and connecting the patient with a randomly assigned doctor.
Clinics that choose to implement EDM can enjoy the full benefits of a cutting-edge telemedicine solution without having to rely on third-party providers. Practitioners who have implemented the system have seen practice revenue increase by more than 250%, with similar benefits in terms of patient satisfaction.
The newly updated system empowers patients to get quality health services from their doctors, thus eliminating the risk of infection while making medical care more accessible for those with mobility-restricting conditions. Practices implementing EDM can send personalized health kits directly to their patients' home, allowing them to monitor their health on a daily basis.
In addition to streamlining the health care process, the telemedicine solution also enables clinics to optimize their patient data collection and management practices. The resulting data is fully digital and can be used to get an accurate overview of a patient's health progress, as well as any other relevant health data.
To ensure high standards of convenience and ease of access, EDM has developed an accessible onboarding process for new clinics.
With the latest announcement, EDM continues to invest in the development of high-quality telemedicine solutions for modern medical practices.
Interested parties can find more information by visiting the above-mentioned website.
Release ID: 88977462