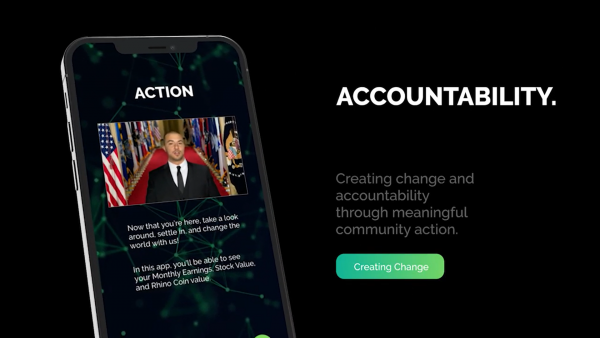 - October 13, 2021 /PressCable/ —
After seven months of keeping absolutely secretive about their work, Rhino Research reveals The World's First "Distributive Marketing" Platform.
What is "Distributive Marketing", other than a clunky term? It's actually quite simple!
Feel free to learn more at: https://cutt.ly/distributivemarketing, or just read this article.
It is a concept, which has long been suppressed by Big Tech companies – it is known who the major players are.
These companies are worth over 4 trillion dollars by offering a "free product". It's incredible how many people actually believe that. In what world does that make sense?
Every time people type something on the keyboard, they are tracked. Tracked for the words, behavior, and reactions. The question that remains is, why? The simple answer, Big Tech companies sell them as a complete profile. This means, everyone using the service for free, is their product. Every time people search for sneakers and later then see ads for that sneaker, that's the proof.
Their real customers are big businesses, and the federal government, who spend trillions of dollars to own people's data. Rhino Research LLC is pioneering the movement of a new generation of people willing to stand up and say enough is enough. A generation that would not agree anymore to be for sale. Generation of people, that says that they are not products, they are human beings.
The company had learned that the time has come to introduce a new way, to get rid of business models of the past. They had invented, yes, invented a completely new model of how the business can take place in the future. Everyone involved is benefiting from it, from businesses doing the sales, to customers who are benefiting directly, and indirectly by just being a part of that business model. It does not stop there; beneficiaries are also the social environment of the customers.
Distributive Marketing – so, what does it mean exactly?
"Distributive Marketing" is a term that simply describes the lesson within the business, that even mothers have taught, "The Golden Rule". People need to treat others as they would like to be treated. To never just take from people. To treat everyone as equals.
This is exactly how Rhino Emancipation works. By the way, that is the name of their most highly anticipated mobile app.
Now, how did Rhino Research LLC come to this innovative idea?
They had surveyed 117,347 Businesses, with a question: "Would you prefer to distribute a small fraction of your existing marketing budget directly to your customers, instead of paying your entire thousands in the budget to buy their data?"
They had surveyed 847,912 Non-businesses, so just regular people with a question: "Would you prioritize buying from a company that distributed money directly to you, rather than that company contributing thousands every month to buy your data?"
No big surprise there, everyone said YES.
It was at that moment, Rhino Research LLC started building Rhino Emancipation. The most needed and yet natural evolution of the old concepts of marketing.
The new Distributive Marketing concept is as follows – in a general outline.
They build every business their very own business mobile app. They will make revenue and contribute small financial resources to have this app.
Rhino Research LLC then distributes business contributions to Rhino Emancipation, a Non-businesses mobile app. Anyone registered in this app, from regular Joe to the even owners of businesses, will get monthly profit distributions from the app, the first of every month. As a result, Rhino Emancipation mobile app will grow to hundreds of millions of users. Users stand to personally benefit from actively helping others, welcoming them on board too.
As a result, businesses owning the Rhino Business app will partner directly with non-businesses users who want to buy from them. Why would they not? They are engaged and know that they get payments every month, by just simply using the app.
Never before has such fairness been offered to everyone. No more does any company owner have to lose sleep wondering how his company can compete against unfair algorithms, that benefit only those with enough big marketing budgets. They have access to highly engaged potential customers.
This is a groundbreaking shift in the concepts of modern sales. This is most probably the start of a new era, where companies, businesses in general, can be rewarded for all of their hard work. To have a fighting chance. They will be able to reward and care about their customers simply by offering their services to them. Even for customers, being themself will be everything, it is no longer nothing.
For all interested parties, especially businesses, Rhino Research LLC will be presenting one live presentation every day until the first spots of onboarding are all gone. All details will be given there, and actually, anyone can reach and book a call after as well, directly with the founder. He and his team are real, they are there for everyone.
Learn more by booking a spot here , to hear from the Founder himself, Anthony Calascione, tonight at 7 pm EST.
Release ID: 89048943