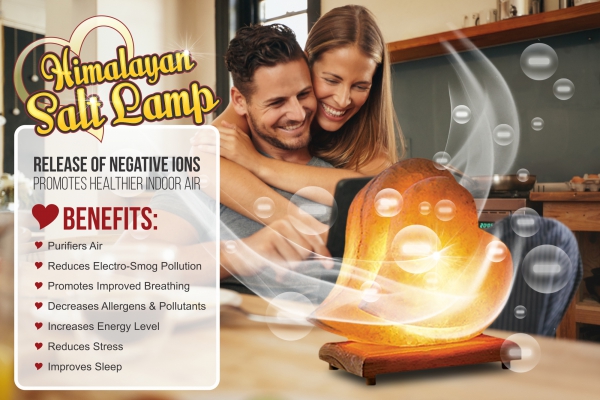 - April 25, 2017 /PressCable/ —
Useful Innovation is releasing the latest run of the popular double heart shaped Himalayan salt lamp. The salt lamp, weighing six to seven pounds and standing about eight inches tall, puts out a gentle amber glow created by the light of a ten watt bulb shining through semi-transparent Himalayan rock salt. The lamp is hand carved and comes with a Neem wood base, six foot UL approved electric cord with dimmer switch, and uniquely patterned Himalayan salt.
Salt lamps first became popular in Eastern Europe when people found restorative benefits to entering and staying in salt mines. It was found that the same effects could be achieved by warming the salt to dramatically increase the negative ion generating effect. A preponderance of negative ions in the air are invigorating to the human body and improves air quality in the area around where it is being used by causing pollen, dust, smoke, and many other pollutants to stick together and fall out of the air. This helps people with sensitivities to foreign particles in the air.
Himalayan salt is recognized as the finest and most pure salt found in the world today. It was formed during the age of the dinosaurs when there was no man made pollution on the planet. It contains about sixty minerals, whose natural occurrence in the salt produces a wide range of color and pattern differences unique to each piece of rock salt. These differences in each piece of salt make every hand carved double heart shaped salt lamp a unique piece of art. No two are alike. More information at http://www.usefulinnovation.com
The highly finished shape and symbolic representation makes it not only an appropriate gift during the holiday seasons, wedding, or Mother's Day, but also a thoughtful gift to family or friends for anniversaries or weddings. The double heart shaped Himalayan rock salt lamp is available on Amazon at https://www.amazon.com/Himalayan-Romantic-Natural-Crystal-Friendly/dp/B017QPJQ4W
Release ID: 187205