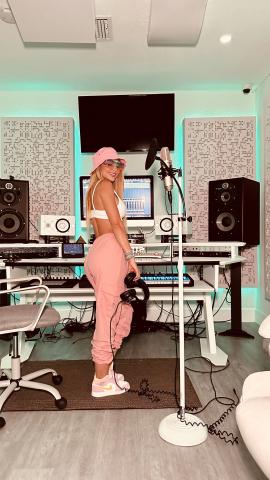 Davie, United States - May 23, 2023 /PressCable/ —
Orel Elhadad, the Israeli artist with a Latin soul, has created a captivating musical fusion in her latest single, "Paka Paka," combining the sounds of Israel with infectious Latin rhythms. Crafted by Orel Aviv Elhadad, Andrés Mauricio Gonzales, and Jonathan Giraldo Escobar, this composition showcases their exceptional talent and artistic vision.
Taking charge of the musical production are Pedro Juan de la Osa Merlano (Gansta) and Vladimir Diaz (Mr Vla), who expertly weave together the vibrant beats and melodies of Israel with the distinct flavors of the urban genre. The result is a harmonious blend that invigorates the senses and compels listeners to move to the rhythm.
The title, "Paka Paka," holds a profound meaning, representing a talkative individual in Hebrew and translating to "Bla bla" in Spanish. This relatable concept resonates with audiences who have encountered individuals trapped in a cycle of empty words and unfulfilled promises.
Accompanying the captivating audio experience is a visually stunning music video, inspired by a real-life situation that allows viewers to connect on a personal level. Orel Elhadad took personal charge of the dancers' costumes, ensuring that every detail aligns harmoniously with the mesmerizing Arabic and urban dance routines.
As an artist, Orel Elhadad proudly stands as the first and only singer from the Middle East within the global urban genre. She embodies the spirit of a warrior and an independent woman, fearlessly expressing her truth and captivating audiences with her artistic prowess.
Continuing her successful journey, Orel Elhadad has built upon previous collaborations like "Pasarla bien" with Daniel Trovatelli and "Cabrona," produced by Gangsta, by releasing "Sin Comentarios," featuring Arcángel and produced by Andy Clay. These achievements serve as a testament to her unwavering dedication and unbridled passion for music.
In the dawn of 2023, Orel Elhadad embarked on a new chapter, ready to conquer the hearts of music enthusiasts worldwide, inviting them to revel in the sheer brilliance of her compositions. Orel's unwavering determination, coupled with her profound connection to the Latin culture she adores, allows her to bring a unique and captivating perspective to the reggaeton genre.
Despite facing personal challenges, including the devastating loss of her beloved boyfriend, Orel Elhadad emerged from the depths of darkness, determined to triumph over adversity. Her indomitable spirit, matched by an unyielding resilience, has transformed her into an even stronger version of herself, poised to leave an indelible mark on the music industry.
To connect with Orel Elhadad and embark on an enchanting musical journey, visit her https://youtu.be/H2Q90ky_0mQ. Immerse yourself in the captivating melodies and vibrant rhythms that define this extraordinary artist's creative vision. Don't miss the opportunity to be part of this exhilarating musical experience.
Contact Info:
Name: Orel Elhadad
Email: Send Email
Organization: YallaYalla BH LLC
Address: 2800 SW 121st, Davie, Florida 33330, United States
Website: https://orelel.com

Release ID: 89098240