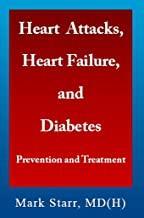 - November 26, 2019 /PressCable/ —
Heart Attacks, Heart Failure and Diabetes, a revolutionary book by Dr Mark Starr, a leader in thyroid research, has relaunched and is available complimentary for a short time. Described as 'life-changing' this title defines how hypothyroidism, heart attacks, congestive heart failure and diabetes are connected, and how these conditions are avoidable.
For more information visit: https://www.thyroiddocaz.com
Just relaunched, Heart Attacks, Heart Failure and Diabetes, written by Mark Starr MD(H), a leader in thyroid optimization who aims to reduce the risk of heart attack, stroke, and heart failure by up to 90%. Dr Starr suggests in his title that there is a natural way to prevent and treat heart disease, but doctors of medicine haven't been taught this in medical school.
Research suggests that some 52 million Americans suffer from a condition called hypothyroidism. And yet, because test results put these Americans within the normal range for thyroid activity, they are left untreated. However, if these Americans and other people globally knew how to regulate their thyroid function better, then they'd improve their health.
According to research, 1 in 3 Americans have some form of heart disease, and the treatment of these conditions is estimated to be from $272 billion in 2008 to over $818 billion by 2030. However, these conditions are treatable by regulating the thyroid.
This direct, easy to read, and informative title reveals how to naturally regulate the thyroid, and explains how illness and symptoms are relieved. Based on medical evidence, which has made Dr Mark Starr a thyroid expert this title stems from his international lecture that made him a modern-day 'Broda Barnes', a thyroid expert from the 70's.
Dr Barnes studied proper thyroid function and eliminating heart illness, and Dr Starr repeated the study to prove that adequate thyroid function prevents heart disease. He also pinpoints that our food and environment are polluted, and this, in turn, affects the endocrine system.
Dr Starr, licensed by the state of Arizona, has treated over 1500 patients. He is also a member of the American Board of Pain Medicine and has studied with president Kennedy's famous pain specialist, Hans Kraus, MD and Lawrence S. Sonkin MD and PhD, a renowned endocrinologist.
Reviewers of Heart Attacks, Heart Failure and Diabetes, said, "Outstanding book. Dr Mark Starr knows the subject very well. I really think most of us have never been aware of the impact that the thyroid packed. Must read book. A worthwhile read for anyone tired of not getting good answers from their doctor."
To find out more about the limited, complimentary edition of Heart Attacks, Heart Failure, and Diabetes how to get a copy, click on the link above. Site visitors can learn more about the title, it's benefits and what's inside the book.
Release ID: 88935653