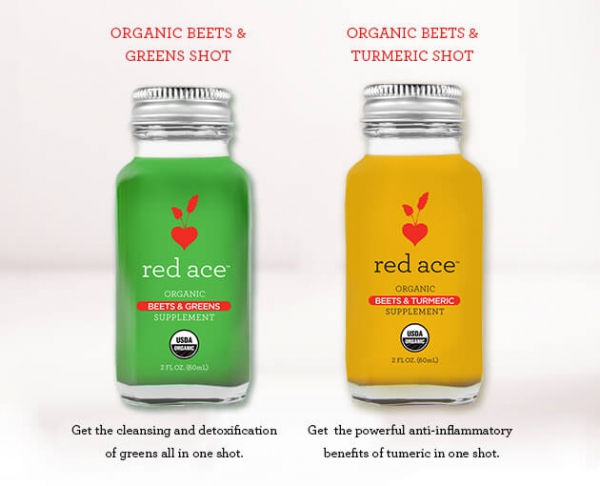 - September 15, 2016 /PressCable/ —
Red Ace™ Organic Beet Juice Releases Two New Flavors To Their Performance Shot Lineup
Red Ace Organics has announced the launch of the latest additions to their line of beet juice shots. Move over kale, these beets mean business!
The new flavor lineup includes Beets & Turmeric and Beets & Greens. Both provide long lasting, clean energy without the afternoon buzzkill, plus exclusive health benefits in each respective flavor.
Beets are an excellent source of antioxidants, energizing carbohydrates, and nitrates, which help naturally increase blood flow and circulation.
"Whether you are about to tackle a ten mile run, or a ten hour workday, these little bottles are your daily dose of get up and go," proclaims Red Ace Organics, CoFounder William Leslie. "I can't even tell you how many people have told me that since introducing the beet shots into their daily routine, they have given up coffee…and have twice as much energy, but without the afternoon crash."
The new Beets & Turmeric takes the same energy formula from their original beet juice performance shot, and adds the anti-inflammatory power of turmeric, especially after exercise.
Red Ace's new Beets & Greens performance shot is an energizing and detoxifying blend of organic ingredients designed to boost a body's natural cleansing processes, increase energy and oxygen intake, while also improving cardiovascular health.
Red Ace performance shots are formulated to stimulate natural energy without the crappy side effects. Numerous studies have shown extraordinary results from the use of beetroot juice, helping Olympic athletes, busy professionals, even couch potatoes get the fuel they need to lead a healthier and more active life.
ABOUT
Red Ace™ is the creator of an all organic concentrated beetroot shots. Every two-ounce glass bottle of Red Ace contains California grown, organic beets, which are high in natural anti-oxidants and energy. Red Ace performance shots are a fast and easy way to get safe, effective energy, plus all the nutritional benefits of organic beets.
Release ID: 132655