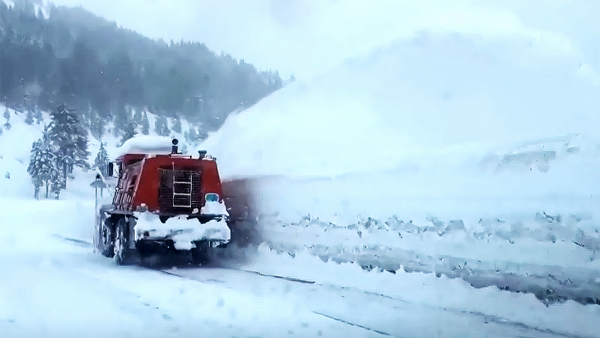 - January 26, 2022 /PressCable/ —
Lake Tahoe region home to one of the largest alpine lakes in the world is home to 15 ski resorts, each with its own diverse terrain in the Sierra Nevada range. These famous Tahoe ski resorts are on both sides of the Nevada / California border and deliver some of the freshest powder for skiing, snowboarding, several other snow sports, and endless outdoor family fun. Annual snowfall in the area averages over 400 inches, offering up the best winter playground for visitors and locals alike. See below for local ski resort openings.
Lakeshore Lodge & Spa is a private lake and beachfront resort in South Lake Tahoe, where EVERY hotel lodge room and condo includes lake and mountain views. Come enjoy some winter fun at this lovely South Lake Tahoe Hotel.
After a dry summer and the Caldor Fire that destroyed 221,775 acres, the area was desperate for precipitation of any kind. Pray for snow dances were answered. December 2021 Lake Tahoe shattered a 50-year December snowfall record with more than 16 feet of snow. According to the UC Berkeley, Central Sierra Snow Lab reached 193.7 inches, blowing a 1970 record of 179 inches out of the water.
This wave of snowstorms had its biggest impact over the Christmas Holiday weekend creating traffic jams, gas and food storage. The storms were no surprise the News and National weather advised motorists not to travel but not many listened to the warning. Both highways coming in and out of Lake Tahoe Hwy 50 and Interstate 80 were closed for days. There were days when it seemed the town came to a standstill. Stores were closed Hwy 50 was barely drivable, Ski Resorts unable to safely open the slopes. Many called it "Snowmagetin" and "Snow-Pocalypse".Governor Newsom activated the state operations center on December 27th because of the record-breaking snow that is still having major impacts in the Sierra and travel. When the roads did open there were reports of people traveling 18 hours from Tahoe to Sacramento(normally a 2-hour drive).
With the start of 2022, re looking at some cool and dry temperatures with not much chance for snow. California's mountain snow holds 160% of the water it normally does at the end of December. This is a strong start but more is needed to help the drought-ridden state.
Here at Lakeshore Lodge & Spa , the snowy beach and views are set up for epic sunsets. Every room has a view of the beloved Lake Tahoe.
Local Resort Opening Dates
Boreal Mountain Resort: Boreal opened Oct. 29, according to its Facebook page. For more information, visit RideBoreal.com
Diamond Peak Ski Resort: Diamond Peak opened Dec. 16, according to its recent FB & IG posts. For more information, visit DiamondPeak.com
Heavenly Mountain Resort: Heavenly opened Dec. 11 for its 2021-2022 season. For more information, visit SkiHeavenly.com
Homewood Mountain Resort: Homewood opened Dec. 16. For more information, visit SkiHomewood.com
Kirkwood Mountain Resort: The resort in South Lake Tahoe opened Dec. 11 for its 2021-2022 season. For more information, visit Kirkwood.com
Mt. Rose Ski Tahoe: Mt. Rose opened Dec. 10, according to its IG. For more information, visit SkiRose.com
Northstar California Resort: Northstar's opening day was Dec. 12. For more information, visit NorthStarCalifornia.com
Palisades Tahoe: Palisades Tahoe opened initially Oct. 29, according to its Facebook page. The resort resumed operations by Dec. 16. For more information, visit PalisadesTahoe.com.
Sierra-at-Tahoe Resort: The resort was significantly impacted by the Caldor fire in October and has not set an opening date yet, according to its website.
Sugar Bowl Resort: Sugar Bowl opened Dec. 15. For more information, visit SugarBowl.com
Release ID: 89061643