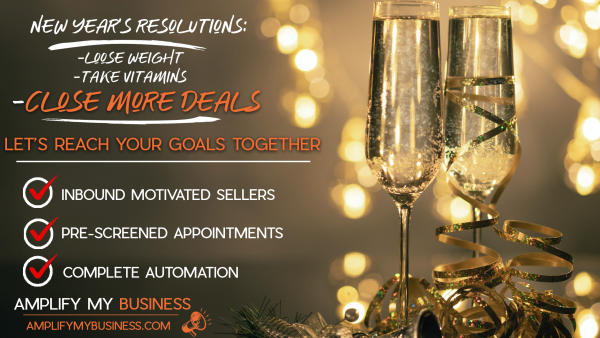 - January 1, 2021 /PressCable/ —
Amplify My Business LLC, the company behind the aggressive and successful Motivated Sellers Leads program, is officially taking their leads and their investors through the holidays higher than ever before. Here's how they're doing it. Their leads are exclusive to each investor, and they're pre-screened, off-market leads actively requesting cash offers immediately. The best part of this is Amplify My Business has a limited December to Remember Special. This is a limited edition special for this holiday season, loaded with exactly what investors need to start closing more deals immediately. This is how their model works from the perspective of a homeowner who qualifies as a motivated seller.
Amplify My Business understands how valuable your time is and they want you spending less time chasing leads and more time closing them. That's why as part of their December to Remember Special they're offering a Free Leads Manager. You'll have one of their trained Lead Manager dialing your inbound leads, screening them, and setting your appointments for you.
They're also offering 2,500 pre-loaded skip-traced leads through their proprietary retrieval system, providing an unfair advantage to all of their investors. Part of this data includes vacant absentee owners, tax delinquencies, pre-foreclosures, expired listings plus FSBOs, and more. That's 2,500 skip-traced leads loaded into your personal CRM, and they'll enable the Text Blasting and Ringless Voicemail features with pre-built text messages and voicemails. Read more about their success here.
Part of this holiday special is having their trained professionals helping you build a buyer's list for your market. This isn't a list that's been re-sold hundreds of times, and that's because Amplify My Business knows how to find active buyers in your market. Investors who are serious, confident, and ready to work with Amplify My Business, the company that helped close over 2,000 deals with the My Business Motivated Sellers leads program, are going to love what they're offering with this special.
Amplify My Business' co-founders Tom and Matt McLelland has said, "This is December to Remember Special is huge with everything we're offering. We can't keep up with the demand of motivated sellers and we need to get them in contact with new investors immediately. We designed this special to help investors start closing today."
Amplify My Business has positioned itself as a nationally recognized provider of the most exclusive and highest quality motivated seller leads by continually evolving with the growth of technology and real estate. They employ account executives, salespeople, and CRM managers, and technology specialists, all of who are of the highest caliber in their industries. Their motivated seller leads are gathered from a variety of sources and are off-market, entirely exclusive, and pre-qualified per each investor's needs.
Release ID: 88992025