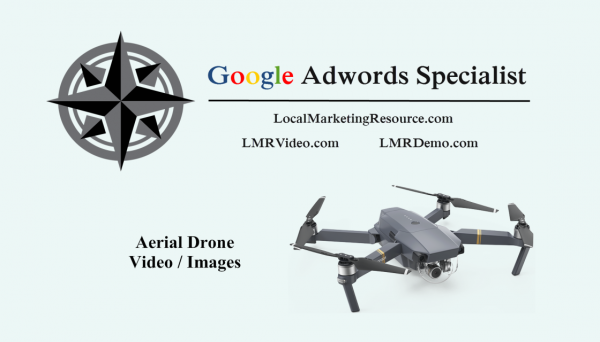 - April 30, 2017 /PressCable/ —
Ahead of the launch of its new Ocala, Fl Real Estate Aerial Drone (UAV) Video/Image Service, Local Marketing Resource (LMR Entities) is publicly making unreleased facts available about the service, specifically designed for Real Estate Agents/Brokers who want to increase listing sales & crush the competition.
Watch The Video: https://youtu.be/H6-OZUPiUZ4
Set to go live Mid 2017, professionals and consumers within the Real Estate niche, will find the following as a win/win/win, for buyers, sellers and RE pro's. Aerial Drones, or UAV's, is the acronym for Unmanned Aerial Vehicles. Every agent & broker will likely use one to compete and make their own listings get noticed.
The idea for creating the Aerial Drone Service for Real Estate Professionals, came about after local online video marketing for businesses, crushed traditional online marketing methods. Competition between real estate listings are brutal and to be successful, agents must be set apart & noticed from other listings & agents.
According to the National Association of Realtors (NAR), 73 percent of homeowners say, that they are more likely to list with a real estate agent who uses video to market their home. However, only 9 percent of agents create listing videos and their sales suffer as well.
LMR's Aerial Drone Services filled this untapped and much needed niche. National Association Of Realtors also mentioned in an article, that per MLS statistics, homes with aerial images sold 68% faster than homes with standard images.
See the article from The Drone Insiders, regarding the above and aerial drone use here. http://thedroneinsiders.com/home/realtors-being-fi…
The Aerial Drone Services for Real Estate Agents/Brokers, has actually been in development for around 3 years. However, in 2016, drones exploded with new technology and a compact design. It brought a very affordable service to the RE market, to showcase real estate with cinematic and professional aerial views.
FAA has played an important role in this market & has been quite stringent where drone certification is required. An operator must be Part 107 Certified for commercial use by the FAA, similar to a private pilot's testing. It has proven wise to hire a professional like LMR, to reduce risks of property, air traffic issues, home owner privacy and injury to others.
LMR is small by design, and has previously been nationally recognized as a leader in it's industry, by online peers, as seen on ABC, CBS, NBC & Fox News outlets. Small by design, local clients have always received attention to detail to expand their message with cutting edge strategies, to fit their budget and goals.
Hands down, Aerial Drone Video/Images, immediately set apart real estate agents from all other stagnant, boring, MLS listings. Interestingly, online video marketing for local businesses, gained huge acceptance & pioneered great results, as watching a video has been preferable to reading.
Regarding privacy issues with the use of UAV's, common sense and professionalism play a major role. A certified operator assures the best results for all parties.
Watch : http://video.foxnews.com/v/5397175888001/?#sp=show…
Compared to large, expensive cinematic video commercial providers, LMR is considered a small company & very experienced with high quality results. This goes to show a company that is small by design, can be very affordable, plus produce and deliver the highest quality results required.
Local Marketing Resource has done something different in the Local Online Marketing space. It's created an affordable niche, ripe for Aerial Drone Video/Image services, and smart agents have taken advantage of it to increase sales & crush other MLS agents.
The Aerial Drone Service will be released soon, and experience has shown, real estate professionals who provided cinematic aerial videos/images to buyers, exposed the property's assets much easier. Potential buyers were attracted much easier which increased sales due to an attractive marketing strategy.
Many sellers have also enjoyed the advantage of quicker sales with aerial images & video, & LMR's service is planned to be fully operational by mid 2017. When 68% increase in listing sales is considered, smart agents will run with the platform to stay ahead of competition.
LMR's Aerial Drone Service started when SR. Dir. of Marketing, Mr. John Pickett, noticed a growing need to stand out-be different, when selling his own property. Boring, stagnant MLS listings, plague the industry which have been difficult to get noticed and viewed by buyers. Competition has always been brutal, so agents must gain more interest, eyeballs & buyers on the properties they list.
With 7+ years of online marketing experience, Video Marketing is not new to the company. Aerial Drones (UAV's) have provided a welcomed new tool for attention, in a highly competitive, shark infested real estate niche. Watch: https://youtu.be/qdDvw4Ru6XQ
The Aerial Drone developed into another high impact, online visual strategy for marketers & clients. It made it easy to reach people selling, renting, buying or managing real estate. As history shows, Aerial Drones were not accepted at first by the RE industry. Proper education and enforcement by authorities, has changed the real estate industry's outlook, because it's tool that customers want to use.
When asked what makes LMR different than other online professionals, Mr. John Pickett is quoted saying: "We study a niche like real estate and consult to provide the most effective online client engagement services for their needs. Clients see more customers coming back into their business, spending more-more often. That's the ultimate goal of any local business and we laser focus on that core point."
Local Marketing Resource's Aerial Drone Service is set to launch Mid 2017. To find out more about Local Marketing Resource, it's new service and existing competition crushing online services, visit or call them today. https://www.facebook.com/Local-Marketing-Resource-…
Release ID: 192190