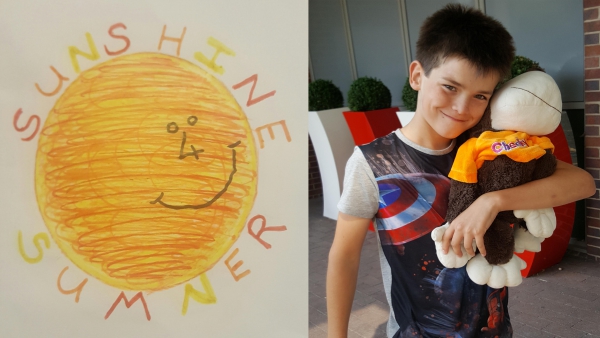 - November 4, 2016 /PressCable/ —
A campaign has been launched to help raise £80,000 for 10 year old boy Sumner Malik, the youngest triplet in the UK based Malik family, who has been diagnosed with a rare form of brain cancer. Called Diffuse Intrinsic Pontine Glioma, or DIPG, it is a disease where highly aggressive and difficult to treat brain tumours are found at the base of the brain, and there is no confirmed cure.
More information can be found on the Just Giving page at: https://justgiving.com/crowdfunding/sunshine4sumner?utm_id=108&utm_term=xnXZvQ6Rx.
The page explains that there are roughly 40 cases of DIPG diagnosed in the UK every year, but each one of those is its own tragedy, because there is a completely non-existent survival rate. However, it goes on to say that there is hope out there for children like Sumner, and the Malik family are asking for help from around the world to bring sunshine to his life.
Numerous doctors and hospitals are carrying out pioneering research into ways of treating the disease, with a few providing cutting edge treatments on compassionate grounds. The problem is that these treatments are highly expensive, and Sumner's family need help to meet those costs and help give Sumner every chance of fighting the disease.
The DIPG tumours arise from the brain's glial tissue, which is made up of cells that help support and protect the brain's neurons. The tumours are found in an area of the brainstem that controls many of the body's most vital functions, such as the act of breathing, the body's blood pressure, and its heart rate.
The family said: "Please help us to give hope and sunshine to Sumner, our youngest member of our family, who is also a triplet who has two identical brothers and two older ones, along with a 12 year old sister."
They added: "We as a family just couldn't ever imagine our family life without him. Please help us to help save him from this cruel brain cancer that only takes 30 to 40 children a year here in the UK."
Release ID: 143645