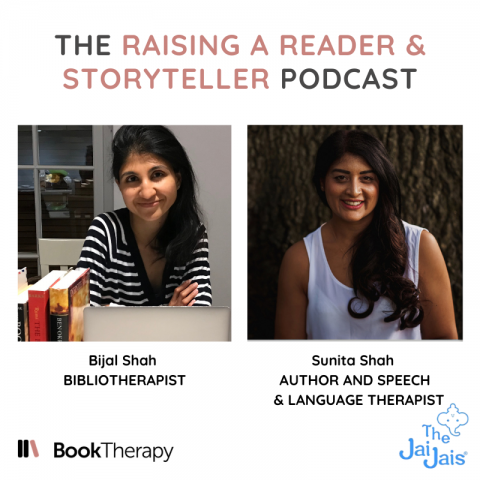 - October 30, 2020 /PressCable/ —
Parents, teachers and anyone working with children looking are invited to subscribe to Book Therapy's new podcast "Raising a Reader & Storyteller" in collaboration with Sunita Mistry Shah of the Jai Jais, a speech and language therapist and author. This new podcast provides expert guidance, tips, techniques, book recommendations plus more on Raising a Reader & Storyteller through an eight-episode podcast.
This new podcast was created specifically with the needs of parents and teachers in mind, and Book Therapy welcomes listeners to provide feedback and comment.
Bijal Shah, Founder, Bibliotherapist & Book Curator at Book Therapy said: "The research is clear: reading from birth through toddlerhood fosters healthy brain development, healthy relationships, a love of reading, and the literacy skills critical for school success. In this podcast, we share tools and techniques, and recommended children's literature, to help your child develop the skills needed for reading success in early childhood and embrace a love for lifelong reading."
Bijal goes on to say: "The aim of the new podcast is to help parents establish a love of lifelong reading and literacy skills as well as learn how to tell great stories naturally. The more feedback we can get, the better we can serve our audience."
Anybody interested in Raising a Reader & Storyteller and current Book Therapy fans and supporters, can subscribe to the podcast at: https://www.booktherapy.io/pages/podcast-1
They are also welcome to explore more children's reading tools at: https://www.booktherapy.io/collections/reading-tools-for-children
Planned episodes discuss the importance of parent-child interaction, the benefits of reading to toddlers and preschool children, the importance of developing vocabulary, building narrative frameworks and storytelling. We also discuss the benefits of reading on mental well-being through the practice of children's bibliotherapy. Everything we share is taken from our own personal experiences as a bibliotherapist, speech and language therapist and as authors.
After the podcast launch on 30 October 2020, listeners can hear all the latest episodes at: https://www.booktherapy.io/pages/podcast-1
More information on Book Therapy itself can be found on their website: https://www.booktherapy.io
Release ID: 88983379