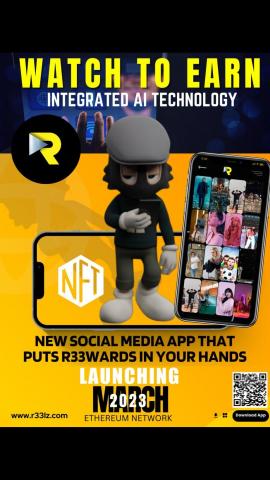 Cape Coral, United States - March 3, 2023 /PressCable/ —
R33LZ.Com is a disruptive social media platform that is set to revolutionize the industry by introducing a novel rewards system that incentivizes users to engage with short videos. Unlike conventional social media platforms, R33LZ compensates its users for their activity, enabling them to earn rewards for simply interacting with the platform's content. Additionally, content creators are rewarded, allowing them to reap significant profits for their content.
One of the most exciting features of R33LZ is its NFT-tiered earning system, which enables users to exponentially increase their earnings by owning an NFT. This innovative system provides a unique opportunity for users to benefit from the surging popularity of NFTs while earning rewards on the platform. Notably, users can earn rewards using the R33LZ application for free.
R33LZ is accessible to a broad audience as it is available on both the Google Play store and Apple App stores. Moreover, it offers a secure space for users to post content without fear of being silenced or canceled for their political views. This feature is essential as numerous social media users have been subjected to censorship on other platforms.
Another remarkable feature of R33LZ is its partnership with big web2 and web3 companies, including A Kid Called Beast, the most prominent NFT project in the industry. The R33LZ co-founders have started this project by utilizing their A Kid Called Beast NFTs' intellectual property, creating a synergistic relationship between the two platforms. R33LZ will cross-promote the AKCB platform in its ecosystem, and there will be a category in the app explicitly designed for A Kid Called Beast users.
R33LZ is set to launch on the Ethereum Network in March, leveraging blockchain technology to provide increased security, transparency, and decentralization. The use of blockchain technology also enables the NFT-tiered earning system, allowing users to earn more rewards by owning NFTs.
The platform has the support of prominent influencers, such as Teddy Wang and Mr. Tov, who have millions of followers. The backing of these influencers will increase awareness of the platform and attract a more extensive user base.
Finally, R33LZ's comprehensive marketing plan is unique in the industry. The platform aims to brand itself in a way that attracts organic traffic, rather than relying on paid advertising. This strategy will enable the platform to grow sustainably and attract users who are genuinely interested in its unique features.
Overall, R33LZ.Com is an upcoming social media platform that rewards users for their activity and content creators for their content. Its innovative NFT-tiered earning system, partnerships with big web2 and web3 companies, support from prominent influencers, and unique marketing plan are expected to propel R33LZ to success in the industry. With its imminent launch, R33LZ is poised to transform the social media landscape.
Visit R33LZ website now at http://www.r33lz.com
Contact Info:
Name: Alvin Nicolas
Email: Send Email
Organization: Reelz
Address: 618 Northwest 16th Place, Cape Coral, Florida 33993, United States
Website: http://www.r33lz.com

Release ID: 89091228