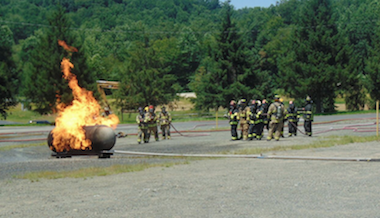 - August 7, 2015 /PressCable/ —
R.F. Ohl sent Joe O'Donnell, the company's propane specialist, to the Pennsylvania Propane Gas Association's training for emergency responders and propane professionals. The training event was held at the Bear Creek Mountain Resort & Conference Center in Macungie, PA in July 2015.
Steve Ohl, President of R.F. Ohl, was quoted as saying, "We take the training and safety of all of our employees very seriously. In my mind, this propane safety training is an essential part of Joe's continuing education and a very necessary safety training." Mr. Ohl goes on to say, "We look forward to having Joe train the propane handlers within the R.F. Ohl team with the updates that he learned about at the PA Propane Gas Association's seminar."
Some of the topics that were discussed included the review of critical steps in the chain of command during the communication process in a propane emergency. This training was conducted by Dennis Cruise (PERC). Mr. Cruise used real-life experiences to relay tactical considerations while responding to a fire and/or explosion. PERC's Propane Emergency Scenarios teach appropriate responses to emergencies such as what do you do in case of an accidental overfill at a customer's home, a grill fire on a third floor apartment balcony, or an underground tank leak.
Dan Waters of Premier Safety Services offered an overview of the Propane Emergencies Program, a PERC initiative responsible for training over 250,000 emergency responders since launching in 1998. Part of what was touched on in this educational seminar and what is included in the Propane Emergencies manual is how to respond to various propane emergencies ranging from residential propane leaks and fires to major transportation- and storage-related incidents.
For more information about upcoming events sponsored by the Pennsylvania Propane Gas Association, go to PaPropane.com or contact Executive Director, Shelby Bell.
Release ID: 88487