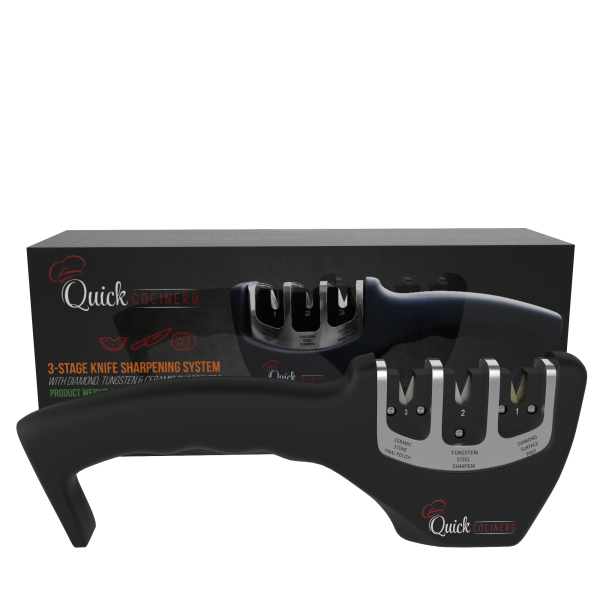 - August 29, 2016 /PressCable/ —
A new knife sharpener has launched on Amazon to glowing five star reviews. Called the 3 Stage Knife Sharpener by Quick Cocinero, it is designed for sharpening straight edge blades with ceramic, steel and diamond honing, working with all types of knifes. Quick Cocinero is a proud Canadian company providing a wide range of professional kitchen products and it prides itself on high quality service and customer satisfaction. The knife sharpener comes with a lifetime guarantee.
More information can be found on the knife sharpener Amazon page listing at: https://amazon.ca/Sharpener-Quick-Cocinero-Designed-Sharpening/dp/B01H19V3TO/ref=sr_1_21?ie=UTF8&qid=1472160141&sr=8-21&keywords=knife+sharpener.
The listing explains that the Quick Cocinero 3 Stage Knife Sharpener will help users to revive their dull kitchen knives in a precise and professional way. They say that the sharpener is the fastest and easiest way to bring a dull kitchen knife back to life, and it works on chef knives, butcher knives, and knives used for carving, slicing, and utility.
It goes on to explain that the 3 Stage Knife Sharpener is ideal for customers who are tired of having to saw through chicken breasts multiple times or whose wrists tire from having to press to hard on their knives to cut through thick potatoes and summer squash.
The sharpener comes in a box complete with usage instructions, so users can begin sharpening their knives immediately. The listing explains that it is a durable, safe, and easy to handle tool, with a solid ABS plastic body and an ergonomically designed frame to ensure stability when sharpening.
In addition to this, the sharpener features a non-skid rubber base that holds the tool in position while it's in use, preventing any unwanted turning over or slipping. This helps users to keep their hands and fingers safe.
Each of the three step process is describe don the listing. The first features a diamond abrasive edge to shape the burr-free edge. The second has a tungsten steel blade for sharpening the dull edge. The third has a ceramic edge that finished the job by polishing the edge.
Release ID: 129934