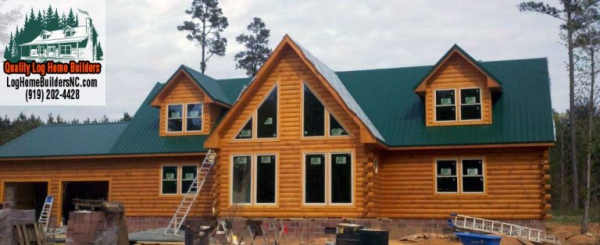 - June 28, 2017 /PressCable/ —
Raleigh, NC – Quality Log Home Builders, a full-service log cabin construction, conception, and installation company that has been building log homes and log cabins for more than 35 years, this week announced they are offering log cabin kits to clients in both Virginia and North Carolina starting this summer.
Designed specifically for the hands-on individual who wants to be part of the log cabin installation and construction process, the log cabin kits come with a variety of options depending on how involved the homeowner wants to be. Kits can actually be delivered as a complete DIY package which is perfect for some people. Others may not be quite so inclined and may prefer a little setup help and additional services can also be provided.
"There's something innate and completely natural about constructing a log cabin out on the forest's edge – or even just on the edge of a nice plot in the Raleigh Triangle area," said Jonathan Balazsi of Quality Log Home Builders. "We also understand that different homeowners come with different experience levels, which is why we're offering kits that accommodate absolutely everyone today."
Quality Log Home Builders offers the turnkey sales and construction kit including everything needed for a start-to-finish dream log home or log cabin; the dry-in sales and construction, which brings an already completed exterior of the home without stain included; the logs-only sale and construction guaranteeing providing logs for the siding of the home, to be erected after the floor system is completed; the logs-only option with logs provided and nothing else; and the construction only for construction help with client-sourced materials.
"We offer ongoing service plans to maintain the appearance of any log home," said Balazsi. "We make custom plans with our clients to ensure the entire home is in tip-top condition throughout the year. Spread the word on the new availability of our log home kits, and head on over to our website to read more about our cabin passions today."
For more information, visit:
http://www.loghomebuildersnc.com/
.
Release ID: 211948