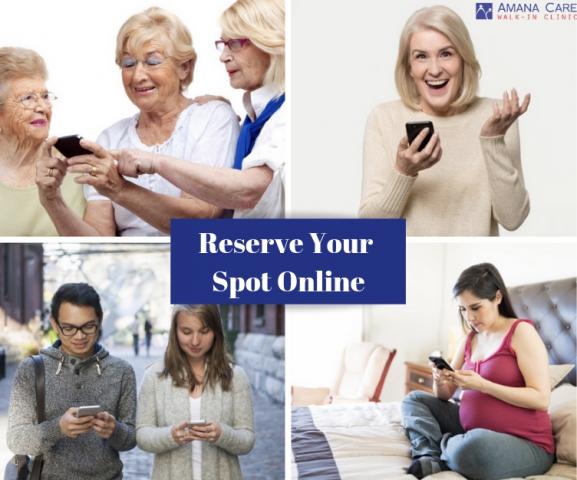 - December 13, 2021 /NewsNetwork/ —
The Davenport, Iowa urgent health care clinic has expanded the availability of telehealth appointments on its website to 7 days a week. Telehealth options are viable for urgent care patients with common respiratory conditions, skin problems, cuts, sprains, bruises, and many ear, nose, or throat infections. Additional issues such as upset stomach, conjunctivitis, and urinary tract infections may also be diagnosed and treated via remote consultations.
More details can be found at https://www.amanacareclinic.com
Amana Care's practice also allows for easy access and more rapid treatment than is typical at a hospital emergency room. Patients can sign in online to reserve their time slots or just walk right in. Currently, patients who require physical, in-office visits must be pre-screened for COVID-19. Amana Care provides free pandemic information, available for download from their website.
Telehealth services have increased, according to one estimate, almost fortyfold since before the pandemic began. As healthcare consumers demonstrate more confidence in and comfort with telemedicine, investment in the field has also grown considerably. Additionally, regulatory changes have also allowed for greater access.
Amana Care's telemedicine option complements the clinic's walk-in treatments. These include services for fractured bones, cuts, and lacerations, muscle strains, joint pain, burns, bites, and rashes. Both the clinic's walk-in and telehealth services help to relieve overcrowding in emergency rooms while mitigating the effects of staff shortages at local hospitals.
More information is at https://doctor.webmd.com/practice/amana-care-walk-in-clinic-80c5186c-9e18-450e-b0a6-10cd3f0b0361-overview
Another advantage of the clinic's services is reduced waiting time. While the pandemic has made medical services more unpredictable, urgent care clinics nationwide report that over 90% of the time patients are seen within 30 minutes. The longer waiting times in hospital ERs are due in part to the overcrowding caused by non-critical patients. Amana Care's telehealth service only makes medical access that much faster and more convenient.
About Amana Care
Amana Care's certified staff are able to quickly diagnose and treat the full range of patients with urgent care needs. The facility in Davenport enables the clinic to use state-of-the-art procedures and exam rooms as well as the best X-ray and laboratory equipment available. Amana Care functions as a neighborhood clinic prepared to meet the medical care needs of residents.
"While the pandemic has presented some logistical challenges, our telemedicine offering is a valuable, convenient service that helps the local Quad Cities community," said a clinic spokesperson. "We understand that some people need the convenience of remote consultations."
People seeking more information can also visit the clinic's Facebook page at https://www.facebook.com/amanacareclinic
Release ID: 89047801