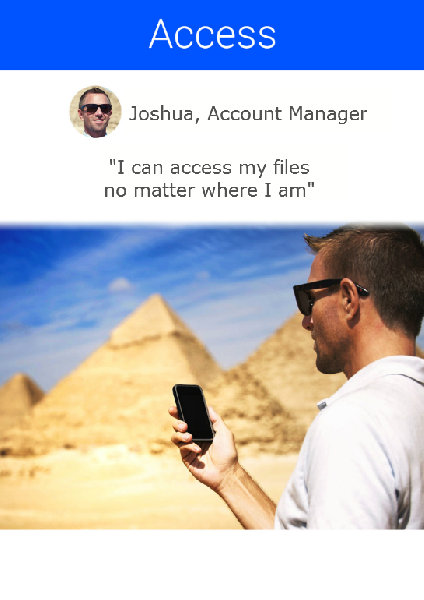 - November 5, 2014 /PressCable/ —
Toronto, Ontario – November 4, 2014 – Amazon users now have free secure remote file access and encrypted file sharing via Qnext Social Edition.
Using smartphones and tablets, Android users are now able to access all of their files, wherever they are stored. Qnext Social Edition allows simultaneous access and file sharing from computers, public cloud storage (such as Google, Dropbox, OneDrive and Box) FTP, network attached storage (NAS) and smart WiFi routers using one unified dashboard. The app leverages Facebook for contact management and allows users to share files of any type and size with their Facebook friends securely.
The Amazon App Store for Android markets to an installed base of 181 million users in 230 countries, as well as to 45 million Kindle devices.   
"Now Amazon users can start a task on their computer and finish it on their tablet or smartphone," said Anthony DeCristofaro, president and CEO of Qnext.  "By enabling continuity between users and their files – whether stored on their computers, private or public clouds – Amazon users can now be productive no matter where they are or what device they are using."
Since the Qnext virtualization technology allows files to be shared, accessed and downloaded from the source locations where they are stored, files or any size or type including executable files (.exe and .dmg) can be shared to any authorized Facebook friend.  There are no caps on storage because users can have as many files and repositories as they like.
Furthermore, by virtualizing data access, Qnext allows users to circumvent fragmentation of information, lack of storage space, complex user interfaces and the use of multiple apps to access and share from multiple storage locations.
Access to unlimited digital content from Android devices has obvious benefits, including the flexibility and mobility that today's users require and are beginning to demand satisfying even the most robust demands of multimedia files such as videos and photos.
Qnext is available for download on the Amazon App Store for Android here. 
For more information, go to: http://www.qnext.com
About Qnext Qnext Corp. a global developer of cross-platform access and file sharing technologies The company is committed to simplifying and protecting your digital life through innovation, imagination and state-of-the-art technologies. With more than 5 years in R&D perfecting its platform and developing a strong patent portfolio, their product is the first to offer virtualized secure file access and sharing from multiple storage locations, enabling users to securely access, share and manage content on any mobile, tablet, or desktop device through one digital dashboard.
Release ID: 67517