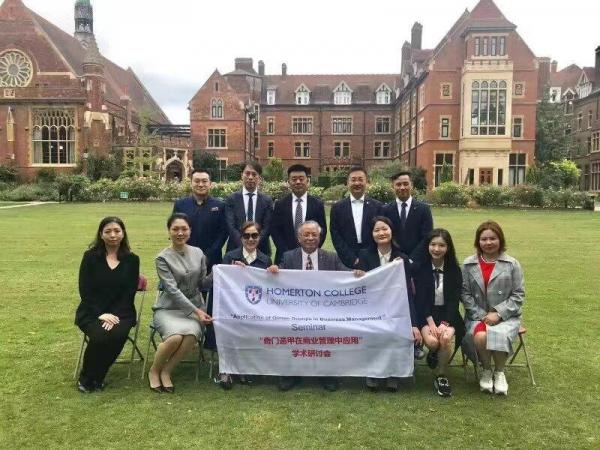 - September 20, 2019 /PressCable/ —
On August 7, Qimen Dunjia Business Application Seminar presented by Shi Miao (Dr. Shi Dingkun), Dean of China(Hong Kong) Qimen Dun Jia Institute and President of Shanghai KunDun Culture Transmission Co., Ltd., was successfully concluded at Homerton College, University of Cambridge. The participants of this Seminar were professors and scholars from the United Kingdom, mainla of China, Taiwan and Thailand. It is the first time that Qimen Dunjia Business Application Seminar was held in University of Cambridge presented by Shi Dingkun, and also, it is the first time that Yi Jing Qimen has entered the lecture hall of the highest institution in the West.
Qimen Dunjia is called "imperial art", and is the top of its kind. In ancient times, it was mainly used for state affairs and military techniques. In the global era, where competition is as intense as war and the market is as like battlefield, Qimen Dunjia enjoys a high reference value in the business development, market operation and management. It can serve as the secret for the success of entrepreneurs. However, western scholars know little about it.
With China's rapid advancement in international status in recent years and the ideological advocacy of Chinese dream, Chinese traditional Yiching culture has begun to attract attention in the international community. This discussion of Qimen Dunjia at Hammerton College, Cambridge University is one of the manifestations.
Dr Shidingkun used various cases to enumerate the advantages and basis of Qimen's decision in business decision making, with the on-the-spot prediction. The experts of the seminar showed great interest and enthusiasm, and highly praised!
As one of the outstanding representatives of Chinese contemporary Qimen Dun jia, Dr.Shi Dingkun is an active leader promoting Qimen Dun Jia to the world. He is also a practitioner of inheriting and disseminating Chinese traditional culture, advancing East-West cultural exchanges.
As early as 2013, Dean Shidingkun traveled to Malaysia for nearly a year to spread his professional knowledge of Qimen Dunjia and benefited many people. Malaysian students called him "the founder of Qimen Dunjia in Malaysia." In 2015, Shidingkun was invited to the University of Southern California to explain Qimen Dunjia in English and received an exclusive interview with Phoenix TV.
During the period when Shidingkun was studying for his doctoral degree, he used Western research methods and statistical methods to prove that the scientific nature of Qimen's decision-making was a useful complement to Western management decision-making. This is related to his later professional works, "The Guiding Study of Qimen Dunjia for Commercial Forecasting," and "The Guiding Study of Qimen Dunjia for Commercial Investment."
Professor Jiang Mingxun from Taiwan University also spoke at the seminar. He said that as a classic of Chinese decision-making, Qimen is not only Chinese, but also a valuable essence of the world's traditional culture, and will certainly affect the mode of international thinking and decision-making in the future.
During the seminar, Dean Shidingkun made a thorough comparison between Qimen's armor and modern Western methods in terms of decision-making mode, and advanced it with cases and principles.With the clear deconstruction and comparison, it helped lots of scholars who lacked of understanding on Qimen Dunjia previously and they now have a clear understanding and recognition on Qimen Dunjia. Shi Dingkun showed that Qimen Dunjia has the features of high decision-making accuracy, wide application, high efficiency and low cost, and is complementary to Western decision-making science. It has irreplaceable advantages and will certainly affect the future business decision-making model in the world.
The participants were more convinced that the decision-making mechanism of Chinese elements will certainly promote the development of global business civilization in the future, and the progress of quantum science will prove the scientific basis of the decision-making mode of Qimen Dunjia increasingly. Oriental culture will also occupy more positions in future decision-making voice.
The grand success of Qimen Dunjia Seminar in University of Cambridge is instrumental in promoting the western and eastern cultural exchange and the revival of traditional Chinese culture.
Dr.Shi Dingkun's contact method: shimiao2011@163.com Welcome to communication and cooperation.
Related link: http://www.shkdgx.com/
Release ID: 88920001