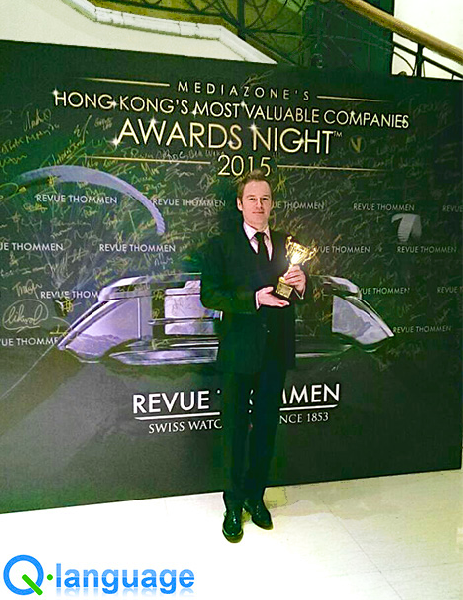 - November 19, 2014 /PressCable/ —
On 13 November 2014 at the Harbour Grand Hotel in Hong Kong, the 2015 Most Valuable Companies Award (HKMVC) ceremony was held. This annual event has been running for 15 years and has been dubbed 'The Oscars Of Hong Kong Business'. Companies are nominated based on research of market presence, client feedback, services to the local & international markets within their industry plus their ability to enhance the overall business profile of Hong Kong.
The over 500 attendees were business leaders from a diverse range of market sectors in Hong Kong such as finance, trading, education, property, hospitality, medical, manufacturing etc.  High-profile attendees included Sun Life Insurance, Hong Kong Tramways, The Park Lane Hotel and Chelsea FC Soccer School.  Within the Education Sector, Q Language, which specializes in full-time Intensive English, Chinese & Korean language courses for both local and international students, was given an award of Most Trusted Company for the first time.
The event, held in the Harbour Grand Hotel Ballroom, included a buffet dinner service with fine wines, an official presentation with celebrity guests, gala performances from international artistes plus personal speeches given by all the award recipients. 
The Group Director of Q Language, Stuart McCutcheon Barrett, sincerely thanked the organizers for the award and told the gathered audience the vision and education goals for Q Language.
Having been the market leaders in full-time language education in Hong Kong for over 10 years, it was the first time Q Language had been recognized in this way for its services to education in the territory.  Clearly, classroom content is not the only defining aspect to the discerning language learner travelling to Hong Kong.  As Q Language includes a housing placement service, airport transportation, in-house Hong Kong SAR student visa processing, cultural student activities and social events, the School is highly-regarded and is firmly placed as the 'go-to' choice for overseas students.
The 2015 HKMVC awards were covered by press and media outlets both locally and internationally with detailed coverage in newspapers, TV and internet channels. All winners received an award press pack with a professional photo album of the event, certificate of achievement plus a personalized engraved trophy.
Q Language was also invited to participate in the official 2015 HKMVC annual magazine and the personal interview & photo with Mr McCutcheon Barrett with his views on education has been included in the publication to be released by publishers and event organizers Mediazone Limited within the next few weeks.
For full details of all Q Language English, Chinese & Korean courses in Hong Kong or further information about their housing and Hong Kong student visa services, students are encouraged to visit the company website: www.qlanguage.com.hk
Related Video:
http://youtu.be/3Fhnt8HjaGs
http://youtu.be/3Fhnt8HjaGs
Release ID: 68554