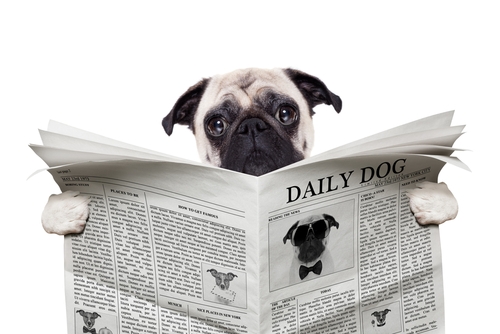 - August 19, 2015 /PressCable/ —
An especially important crusade that the Pug Channel is involved in relates to the "Pug Diet ". They warn owners of the dangers of sharing human food with their pets. A Pug's enthusiastic obsession with food may tempt owners to share food. This can be extremely dangerous since a dog's metabolism is very different to a humans; and there are many things that we can safely eat that they cannot.
In an article just released the Pug Channel lists the "10 Deadly Foods Your Pug Must NEVER eat ". They say that every Dog owner needs to see this since otherwise they are playing Russian roulette with their Dog's life every day. There are numerous instances of Dogs being taken to the veterinary Surgeon after eating foods that are listed as potential killers and they do not always survive.
Aside from issuing dire warnings about a Pug's diet this brand new website takes a fresh look at one of the most popular dog breeds around today. Its focus is on the wonderful world of Pugs and boasts that it contains "Everything you need to know about Pugs ". We have identified 5 things about the Pug Channel worthy of mention here: 1. It contains all the latest videos featuring Pug action; from the newest to seasoned videos with millions of views. 2. This latest online offering also features a wealth of articles covering such as: Puppy care, puppy training, potty training, grooming & coat shedding, nutrition & exercise, health and looking after mature pugs. 3. The website is supported by a flourishing Facebook page. 4. They envisage launching own brand pug products and eBooks in the fall. 5. Pug Rescue – a section of the website will be devoted to Rescue Dogs and the good work carried out by so many Pug rescue centres.
The site covers the entire range of Pug activities – From Pug Exercise, Pug Feeding, Pug Grooming to how to keep a Pug healthy. There is also information on the history of Pugs; famous Pugs through the centuries and famous celebrities of past and present who are Pug owners.
Author of Pug Channel, Elspeth Garner says "Honest reviews of my work are always welcome. This is the Newest and Freshest Guide to the Wonderful World of Pugs". More information on Pug Channel & the Deadly Food List can be found at: http://pugchannel.com/which-is-your-pug-2/.
Release ID: 89249