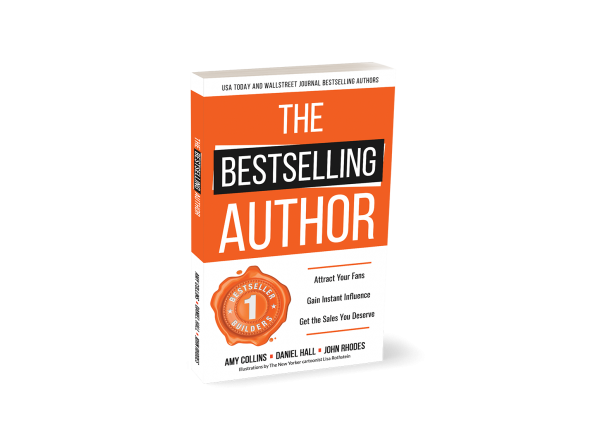 - November 14, 2019 /PressCable/ —
What are successful authors doing to get their books on the bestseller lists? What is their secret to consistent sales? The answer is, in one simple little word: PLATFORM.
Building an author platform is something co-authors and publishing experts, Amy Collins, Daniel Hall and John Rhodes know a thing or two about. It is, in fact, the foundation of their publishing and book marketing program, Best Seller Builders. A highly sought-after do-it-for-you platform building and book marketing program, Best Seller Builders works with a limited number of authors each year.
"I wish we could help every author we meet, but there just isn't enough time in the day." Collins says, "But Best Seller Builders believes in supporting the author community as much as possible, which is why we decided to write a book any author could benefit from."
The result of their combined efforts was "The Bestselling Author: Attract Your Fans, Gain Instant Influence, Get the Sales You Deserve," a book that provides writers and publishing hopefuls with a step-by-step plan for constructing their own author platform.
Surprisingly, a platform has very little to do with the actual book or books an author has written. Instead, "The Bestselling Author" defines a platform by how many people an author CAN reach. This number may include people who have read the author's book, bought the book, subscribed to the author's email list, read their blog posts, or followed the author on social media. A platform is a group of people; it is an author's reader fan base. Finding and influencing as many of them as possible as often as possible is the key to building a strong platform. It's real work and it's not easy, but once an author dedicates time and effort to building a platform, they will reap the benefits.
"The Bestselling Author" features 19 tips on building a lasting platform, including:
• Establishing a platform-building habit
• Setting up an author blog and email list
• Taking advantage of social media
In essence, an author platform is a relationship an author builds with their readers over a lifetime. And an author platform is what separates truly successful authors from merely talented ones. "The Bestselling Author" is the road map on how to get there.
Robin Cutler, Director of Ingram Spark says, "At last, an indispensable resource for authors on what's needed to find readers and turn them into buyers. I love the wit mixed with practical advice and highly recommend this, especially for new writers just getting started."
About the Authors: Amy Collins is the President of New Shelves Books and one of the largest book sales and marketing content providers in the U.S. Collins is a USA Today and Wall Street Journal bestselling author, as is co-author Daniel Hall. In addition to being an author, Hall is a speaker, publisher and creator of the Real Fast (TM) brand of training products and the host of the RealFastResults.com podcast. John Rhodes has published multiple bestselling books and is a noted expert in direct marketing and business strategy. To learn more about the authors, please visit https://bestsellerbuilders.com.
"The Bestselling Author: Attract Your Fans, Gain Instant Influence, Get the Sales You Deserve" was released on October 29, 2019 by Best Seller Builders. ISBN 978-1935355380, $14.00
Contact Information
Keri-Rae Barnum
info@newshelves.com
# # #
Release ID: 88934035