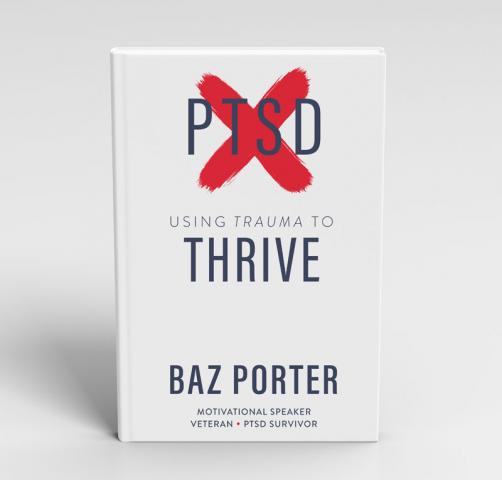 - December 11, 2020 /PressCable/ —
Baz Porter, motivational speaker, veteran, and PTSD survivor, has released his seminal book, "Using Trauma To Survive". This autobiography and self help book outlines Baz's life transition from a depressed British army veteran to motivational speaker, coach, and spiritual advisor. He gives readers the steps he went through to transition from a failure to a success. The hardcover is ready for delivery beginning December 8th.
For further details see https://bazporter.com/product/using-trauma-to-thrive
The book's release this month during the holidays is appropriate since many experience depression during this season. The pandemic has heightened these feelings in many people. This book can help them deal with a depressed mood. Baz shares the path he took to gain control over depression and addiction.
PTSD is a condition that can occur after a person sees or experiences a terrifying event. This brain disorder may last for years and can be triggered when memories of the trauma occur. The latest science shows that repeated inflammation of the amygdala may be the source of the disorder.
The condition causes severe physical and emotional reactions that can manifest in nightmares, heightened reactions, anxiety, and a depressed mood. Many who have this condition choose to self medicate with drugs and alcohol.
The author wrote this book because he wants to give people hope that they can overcome PTSD. It was written to impact people's lives through the lessons he learned as a veteran after his discharge from the British army.
The audience that may benefit from "Using Trauma to Thrive" includes soldiers and victims of war, sexual abuse, child abuse, rape, armed robbery, and bullying. The principles he shares can be applied to anyone that has PTSD regardless of military service.
Baz Porter's journey from PTSD, depression, and addiction to motivational speaker, spiritual guide, and life coach will inspire readers this holiday season.
The author offers several programs on his website in addition to his book. They include Million Dreams Community, Ascension Master Course, Corporate Support, Triumph Mentorship, and Transformational Coaching services.
A recent client said, "Baz helped me to overcome and begin healing from past trauma in one session. I would recommend him to anyone who is hurting and feels broken beyond repair."
The release of "Using Trauma to Thrive" gives people with PTSD a resource that can help them overcome this condition.
For more information see the above URL.
Release ID: 88989151