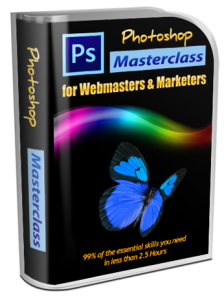 - July 22, 2016 /PressCable/ —
A brand new Photoshop training software entitled PS Masterclass 2016 providing a pack with rapid, easy and best-selling Photoshop video tutorials along with toolkits, templates and a free web graphics pack, has been launched.
More information is available at http://letsgolook.at/PSMasterclass2016.
The PS Masterclass 2016 is complete Photoshop training solution developed by Chris Hitman to help bloggers or marketers create any kind of graphics, from banners, headers & ads, 3d boxes, covers or product mock-ups along with photo retouching or enhancing, and more, for their websites, blogs and campaigns within minutes.
The newly launched software includes best-selling Photoshop web courses for CS2-CS6 + CC versions with video tutorials on the right image types and legal image rights compliance along with where to get royalty free stock photos as well as essential skills for image cleaning, color retouching, creating the base graphic, working with gradients & layers, fitting the text, making reflections and adding patterns, brush effects or advanced gradients, and more.
Multiple video tutorials for more advanced skills, including the development of smart objects like covers, mockups & 3D visuals or how to expedite graphic creation efforts with automation of common tasks, and more, are also provided along with two comprehensive toolkits, premium Photoshop design templates and a pack containing 64,000 transparent ready to use graphics.
More information on the PS Masterclass 2016 software and detailed summaries of the topics covered in training courses along with details, samples and demos on the multiple templates, kits and tools included in the pack can be consulted on the website link provided above or at http://muncheye.com/chris-hitman-et-al-ps-masterclass2016.
The developer, Chris Hitman, explains that "our PS Masterclass 2016 gives designers, bloggers or marketers the foundation skills and tools needed to get the job done, whether that is making a quick change to some artwork or designing something from scratch, quicker than it would be to write an email to an outsourcer".
He adds that "there's nothing more frustrating than waiting for designs, being let down by the final result and paying a small fortune for the graphics but the biggest reason why people shy away from Photoshop themselves is that it's perceived as difficult, which is a long standing myth. Our PS Masterclass is tailored to turn beginners into pros completely able to make just about any kind of graphic".
Release ID: 124652