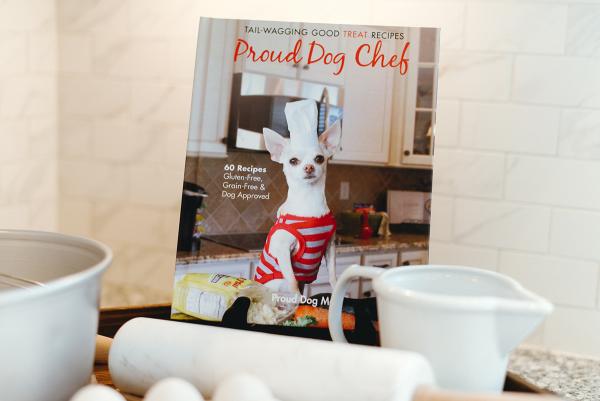 - September 27, 2018 /PressCable/ —
Dog treats are getting a bark-worthy makeover thanks to a newly released cookbook titled 'Proud Dog Chef: Tail-Wagging Good Treat Recipes'.
Written by the creators behind the hit blog Proud Dog Mom, this cookbook is filled with 60 gluten-free, grain-free, and dog-approved treat recipes that are bound to make even the pickiest dog's tail wag.
With careful attention to nutrition, Proud Dog Chef is a book for dog parents who are ready to leave behind questionable ingredients and red flag preservatives.
When asked about the book, author Melissa Gundersen said,
"Since launching our blog, www.ProudDogMom.com, we've received thousands of emails from our readers asking about their dog's food allergies, skin issues, obesity, and general health problems. These are all conditions directly tied to diet. With more pet parents lifting a magnifying glass to their dog's food and snack bags, we decided to take matters into our own hands. So, we spent nearly two years testing and perfecting wholesome dog treat recipes that focus on fresh vegetables, fruits, lean proteins, and easy-to-digest flours."
Recipes range from biscuits and pupcakes (AKA doggy cupcakes) to homemade jerky and veggie/fruit chips. The Proud Dog Chef cookbook also features refreshing frozen snacks, protein-packed burgers bites, and holiday-themed treats.
All of Proud Dog Mom's recipes use fresh human foods that also offer health benefits to your fur kid.
Quickly garnering 5-star reviews on Amazon, one reviewer wrote:
"Love the book! Great recipes, easy to make, reasonable number of ingredients! Excellent explanations of why she uses the ingredients she chooses."
As you flip through the pages of this carefully curated dog treat cookbook, you'll get way more than just recipes. Inside, you'll also find essential baking tips, a detailed explanation of the human foods dogs can and can't eat, and a few basic dog nutrition must-knows.
Proud Dog Chef is now available as a hardcover, paperback, and e-book at online bookstores such as Amazon and Barnes&Noble.
Release ID: 413591