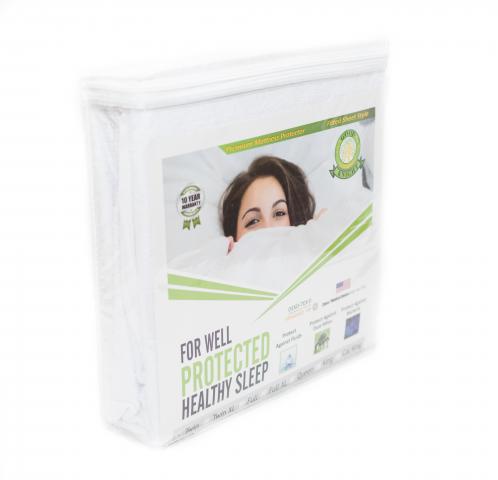 - October 3, 2019 /PressCable/ —
We have all spilled a beverage or food in our beds at one point in our lives, staining not only our bed sheets but also our expensive mattress. Getting stains out is a hassle and most of the time the stain doesn't seem to completely come out. It seeps through your sheets into your mattress, damaging it and leaving an unwanted odor. With GoodKnight's mattress protector, you can comfortably have a snack or even red wine in your bed.
This product is perfect for children who are still potty training, or someone who is incontinent. The absorption power guarantees a restful night's sleep even after an accident. This protector may be 100% waterproof but it is noiseless and comfortable because it is created with out vinyl. It also has fabric technology that provides circulation and cooling. This will prevent feeling damp while asleep or having poor sleep from waking up feeling warm and moving to the other side of the bed.
Get one at https://www.amazon.com/Waterproof-Mattress-Protector-Hypoallergenic-Twin/dp/B07VHS281D
This mattress protector is also hypoallergenic. It can be a nuisance to get into bed and be constantly sneezing or coughing while trying to fall asleep. This product is perfect for those with asthma, as ithe mattress encasement protects the bed from collecting dust, and prevent dust mites from living and reproducing in your mattress. It also intercepts bed bugs to keep your bed safe and hygienic.
To buy, click https://www.amazon.com/Waterproof-Mattress-Protector-Hypoallergenic-King/dp/B07VHSMN2D
GoodKnight's mattress encasement is extremely easy to clean. You simply toss it in your washing machine and dryer. No matter how many washes, the mattress protector does not lose its efficacy, ensuring you and your family to stay dry and cool throughout every night it is used. It is also created without PVC, vinyl, or phthalates. GoodKnight offers a 10 year manufacturer's warranty and your money back if you don't love it,
To purchase one, click https://www.amazon.com/Waterproof-Mattress-Protector-Hypoallergenic-Queen/dp/B07VBGSMPF
Release ID: 88919268