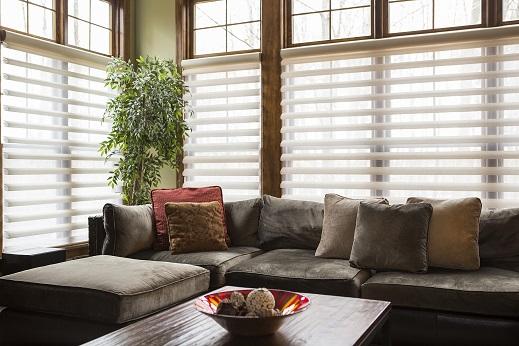 - February 18, 2021 /NewsNetwork/ —
Birmingham based home automation company, Sphere Audio Video, has published a new article titled 'How Motorized Blinds And Shades Beneficial To Your Family And Home'. This new article sheds light on a type of light control system called smart blinds. Smart blinds or motorized blinds go by many names such as automated blinds, automated curtains, smart shade, roller shades, etc.
The article includes several intriguing pieces of information, one, in particular, is the pros and cons of motorized blinds and having one installed. This should be of particular interest to new home builders, homeowners, and business owners looking to upgrade their homes or offices with home automation systems and light control installations.
In our consumer-based economy, everyone wants their "bang for a buck" and many have false believes that smart blinds or motorized blinds are a luxury instead of a necessity. This was argued in one of the most important sections of the article as it addresses the benefits of motorized smart blinds. Some examples are child safety, our physical and mental health, and well as protecting our family.
The example scenario the article gave where anybody can relate is found in the following extract:
'It's the weekend and you are woken up from the bright shining sun when all you wanted to do was rest after a long week from work. Smart shades can be pre-programmed to not open till you are ready to wake up. Imagine how that extra 30 minutes or an hour will feel when you have the uninterrupted feeling of full rest.'
Regular readers of Sphere Audio Video will notice the article takes a familiar tone, which has been described as 'very friendly and knowledgeable of the home automation system and installation'.
In discussing the article's creation, the owner of Sphere Audio Video said:
"Smart Blinds are typically viewed more on as "high-end" side compared to many other home automation or smart technologies due to the functionalities it provides. Nonetheless, there are many great options and benefits to smart blinds that all homeowners should know and consider before calling the local professionals."
Anyone who has a specific question about a past, present, or future article can contact Sphere Audio Video via their website at https://sphereav.com
The complete article is available to view in full at https://sphereav.com/motorized-blinds-benefit-homes/.
Release ID: 88997820