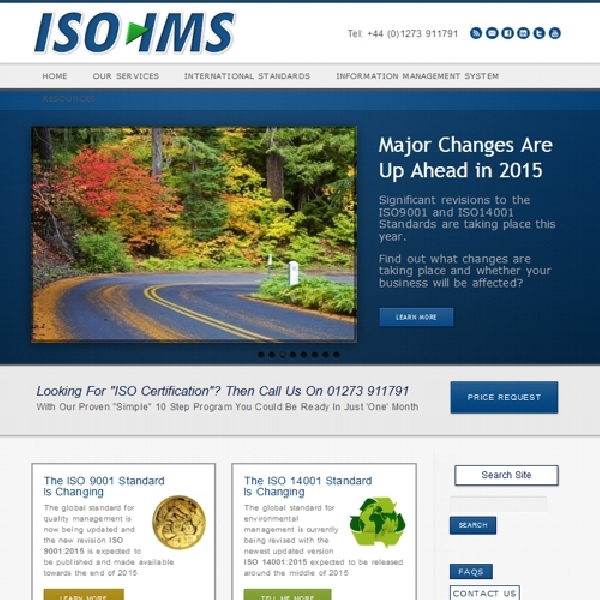 - March 26, 2015 /PressCable/ —
ISO IMS Solutions have announced phase one completion of a major upgrade and development program that began 12 months ago, to redevelop their website and web-based Integrated Management System (IMS).
"I am very pleased with the look and feel of the new site," Terry Westley, CEO, commented, "there is a lot of information out there about ISO Standards and Achieving ISO Certification but very little of it is written in a way that business owners or managers can understand. We wanted to not only present an attractive face to our consultancy but also to create a resource centre that provides those seeking certification with the information necessary for them to make informed decisions and to take the next step."
The second phase, due for completion later this year, will see the launch of "Big Intranet", their popular IMS which has undergone considerable redevelopment to incorporate significant new features and improvements.
A spokesman from the ISO IMS Solutions development team explained, "The old system was beginning to show its age and we had become very aware of its limitations. We wanted to build a system that would be future proof for new features in the 21st Century. So we took the plunge and rewrote the whole system from scratch, allowing us to build a better, faster and far superior management system."
Big Intranet has a wealth of new features designed to make life easier for small to medium business owners including:
A very modern look and feel – The new version has been redesigned to be much more than a functional management system. A lot of thought has gone into the user experience and many of the additional design elements have been incorporated to facilitate this in the best way possible. The end result is that both the appearance and the user's interaction with and flow through the system have been greatly enhanced.
Addition of new modules – Aside from the fact that the existing modules needed to be rewritten and updated, Big Intranet has been expanded to make the whole system complete for a greater diversity of businesses and organisations. Amongst the array of additions are the new Customer Relations Management module for managing business relationships and fully equipped Resource Management modules that cover everything from employee training to online communications and meetings.
A full list of Big Intranet's features can be found on the company website, ISO-IMS Web-system Features.
The recent updates to the website and the redevelopment of the Integrated Management System are part of ISO IMS Solutions commitment to the ISO's benchmark principle of continuous improvement.
Terry Westley had this to say:
"Our development team have been working hard over the last 12 months to produce a management system that provides small businesses with all of the tools that they need in order to effectively manage their ISO Certification, for a price that they can afford. Many Small and Medium Enterprises (SMEs) feel that ISO Certification is only for 'the big companies' and they disqualify themselves from the many benefits that ISO Certification can bring, because they often believe that the set up costs, alone, are prohibitive. So we wanted to produce an integrated management system that was readily accessible; both from an operational standpoint and also financially viable, to all businesses, so that everyone has the same opportunity to position themselves in their marketplace and reap the rewards."
Current customers interested in learning more about the upgrade can do so directly on the website at http://iso-ims.com . New customers can also use the site to test drive the latest version of Big Intranet.
Release ID: 77899