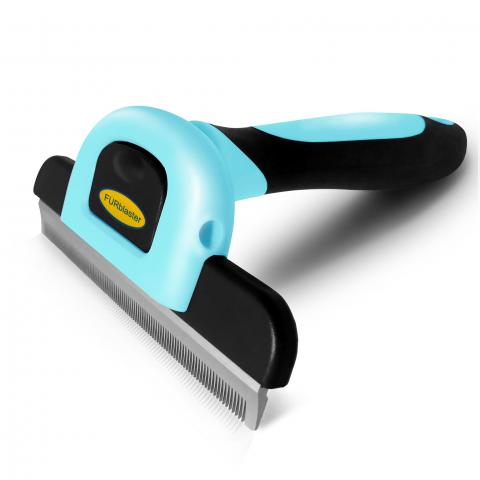 - January 15, 2020 /NewsNetwork/ —
DakPets' dog deshedding brush has recently been recommended by the owner of a Pitbull. With more than 20 thousand reviews and ratings, this product is currently an Amazon's Choice.
DakPets' top rated pet grooming brush continues its dream run in Amazon.com. A Pitbull owner has recently recommended this product strongly as a very effective grooming tool. Interestingly, this pet brush has already received a whopping twenty thousand plus reviews and ratings from Amazon shoppers with an excellent average user rating. The product is currently amongst the top ten products in its category in Amazon. Owing to its phenomenal performance, this pet care tool has recently received the 'Amazon's Choice' badge.
By spending a few minutes to take care of a pet's hair, pet owners can remove dirt and dead hair from the coat of their favorite pets to prevent mats and tangles. Regular deshedding also helps build a strong bond between the pets and its parents. Another benefit of grooming is that it allows pet owners to check their pets for any abnormalities. This includes skin problems such as ticks, fleas and dry patches, or issues with their nails, teeth, ears, and eyes such as infection or inflammation. When the right type of brush is used, pets are most likely to enjoy being groomed.
The pet deshedding tool from DakPets has been designed and developed by professional pet care experts specializing in dog grooming and cat grooming tools. This grooming brush removes the loose dead undercoat without causing any damage to the topcoat. With regular use, it helps promote healthy skin, stimulates the blood and leaves a shinier top coat. The product is ideally suited for all shedding breeds of dogs and cats regardless of their shapes and sizes, and is veterinarian approved.
Some of the key features of the product include
· Capable of reducing shedding by up to 95%.
· Available in colors blue, yellow and pink
· A non-irritation 4 inch (100mm) heavy duty replaceable stainless steel pet comb with rust-resistant blade
· Safe blade cover that protects the blades
· Durable rubber handle for non-slip grip
· Hypo allergenic materials TPR and PP
· Versatile detachable head design
In a recently published Amazon review, the reviewer mentioned, "We recently acquired an 18 month old pit bull. I was struggling with allergies related to his hair and dander. I am also a bit of a neat freak about my house and was having a hard time dealing with the hair he was shedding all over the floor and furniture. I started looking for a brush that would remove loose hair and saw this one on Amazon and read the reviews. I decided to try it. The first two days when we brushed our dog with the deshedding tool, we removed a good deal of hair. On the third day, little to no hair was removed and there was very little hair on our floor when I swept. This product has been very helpful. My husband brushes our pit with it every day. His coat is nice and shiny and it has greatly reduced his shedding in our home! I would recommend it to anyone."
To find out more about DakPets Professional Dog Shedding Brush, please visit https://www.amazon.com/dp/B00CD0H1ZC?ref=myi_title_dp
About DakPets: DakPets is a world renowned pet care brand with an impressive range of products. The company's name is synonymous with high quality, exceptional value in pet supplies. All their products are made and developed by professional experts that specialize in different breeds of dogs, cats, and even horse grooming tools as well as general pet care.
Contact:
Rob Scrivens
Release ID: 88942643