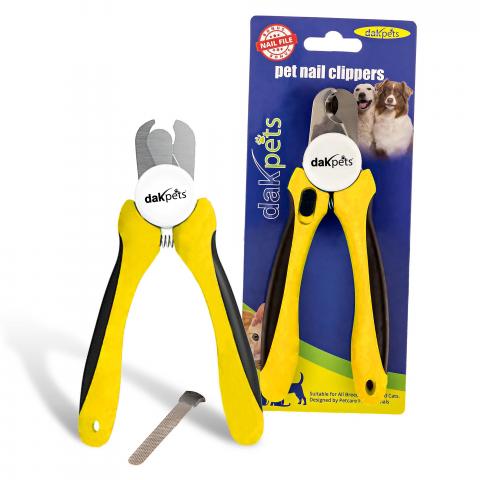 - September 21, 2018 /PressCable/ —
DakPets is pleased to announce the official launch of an attractive sales promotion for their professional dog nail clippers. A highly preferred pet care brand, the company recently launched this top-quality product in the UK & European market. All buyers purchasing the product via Amazon UK will now receive a handsome 30% discount on the product by using the discount code VT4CJ7B8
DakPets informs that this promotional campaign will remain valid for a short period of time whilst stocks last.
Nail clippers are always high on the wish list of dog and cat owners that truly care for their pets. However, finding a safe and effective product is not always easy because a high percentage of dog clippers are made using substandard materials. Also, many of the products available in the market are designed without taking the pet safety parameters into account. This is why thousands of dog owners pay hefty amounts for visiting a professional groomer or vet just for a nail trim.
With years of experience in delivering world-class pet care products, DakPets has taken several key factors into account while designing their dog and cat nail clippers. Blades are considered to be the most important component of a nail trimmer. DakPets has used high quality stainless steel blades that provide the necessary sharpness to cut the nails in one smooth and clean action. These blades are durable and retain their sharpness for a long time.
DakPets claims that their product is one of the safest pet nail clippers in the market with several top notch safety features. The product comes with an advanced protective guard to eliminate the common issue of over-cutting. The clippers are also equipped with ergonomically designed non-slip rubber handles to ensure a comfortable grip and precision trimming without any risk whatsoever. Moreover, there is also a safety lock for safe storage of the product. The company offers detailed instructions to help pet owners use the product properly and avoid causing injuries to their pets. Finally, the professional dog nail clippers from DakPets features a nail file for the best nail trimming experience without professional assistance.
"We, at DakPets, are excited to announce the launch of the very first sales promotion for our dog nail clippers on Amazon UK," said a senior spokesperson from DakPets. "Instead of the products listed price of £8.99, you can now take home this excellent pet care tool for a 30% discounted price. In order to avail this discount, you just must use the discount code VT4CJ7B8 during checkout. All other details are available in our Amazon UK store."
The shoppers at Amazon UK will also receive a 60-day complete money back guarantee, and free shipping for orders above £20 while purchasing the product.
More about Dog Nail Clippers from DakPets can be found by going to Amazon UK and searching with the words- professional dog nails clippers
About DakPets:
DakPets is a world-renowned pet care brand with an impressive range of products. The company's name is synonymous with high quality, exceptional value pet supplies. All their products are made and developed by professional experts that specialize in different breed of dogs, cats, and even horse grooming tools and general pet care.
Release ID: 406124