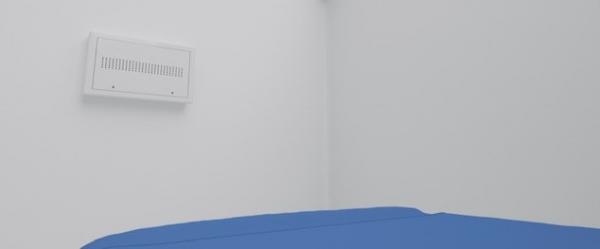 - September 17, 2021 /PressCable/ —
Proenc recently added a new enclosure to their portfolio, it has the same patented design as the other range of Proenc products, but this time the enclosure has a solid steel vented door and is used to accommodate electronic hardware, enabling nursing observation station integrators to deploy expensive hardware in an environment less than ideal – with a huge potential for patient abuse.
Now, using the Proenc anti-ligature electronics enclosure, an integrator can deploy COVID19 testing as well as virtual patient monitoring hardware in psychiatric and behavorial health facilities, providing a cost effective and more manageable solution than the previous patient sitter program.
Proenc's nursing observation and virtual assistant enclosure helps improve patient experience, especially as a behavorial health unit virtual monitoring solution, it also Improve safety for behavioral health nursing staff and patients alike, whilst at the same time reducing hospital sitter costs. As 1:1 patient sitter program cost can be extremely expensive, whilst using electronics to replace the sitter is more cost effective, the patient receives the same if not increased benefits as if someone is sat with them.
Dale Edwards, Proenc's Techincal Director stated, "Improving patient safety is a goal for both hospitals and patients alike. With innovative VPO (Virtual Patient Observation) technology, nurses can manage their patient safety with real-time data, patients recover successfully in hospitals, and hospitals continue to have all-time high patient satisfaction. Virtual patient observation solutions are the way forward for increased care and reduce costs in most health care facilities."
The protective enclosure is available in one size and is a stock item, the nursing observation and virtual assistant enclosure measures 24 ¾" wide x 17 13/16" high x 6" deep. Comes with a 3-year warranty as it is manufactured to the same Proenc superior build quality and is finished powder coated white as standard.
If you would like to learn more about Proenc's nursing observation and virtual assistant enclosure please visit https://www.lcdtvenclosure.com/behavioral-health-unit-virtual-monitoring-solution
Release ID: 89045758