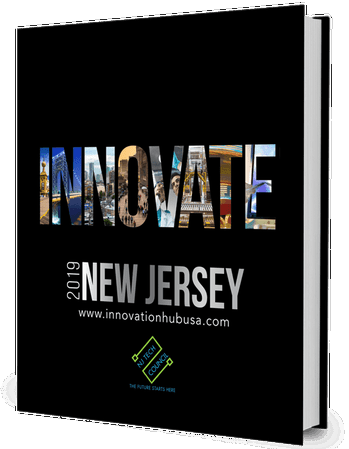 - August 20, 2019 /PressCable/ —
Global Village Publishing is nearing completion of its first volume of INNOVATE NEW JERSEY, which celebrates innovators and innovation enablers in a variety of industries and stages of development. With nearly 300 pages of custom-designed spreads, at least one for each company, this tech-enabled coffee-table book features the best and brightest of New Jersey.
"INNOVATE NEW JERSEY is unique because it showcases innovation in the state as a whole," says Carel "Callie" Van Graan, Global Village Publishing's COO. "It's allowed us to zoom out on the innovation ecosystem in New Jersey, to capture the big picture of it, but also to zoom in on the individual companies that make up that ecosystem."
Many of INNOVATE NEW JERSEY's participants are instantly recognizable—KPMG, Capital One, Ernst & Young, PwC, Brother International Corporation, Grant Thornton, Advance Realty, Montclair State University, and Rutgers University among them. No matter their size, however, participants were carefully researched before being nominated for inclusion, as opposed to being subjected to a "pay-to-play" model.
"With an increasing emphasis on a human touch in a digital world, we're mindful of who we include," says Sven Boermeester, Global Village Publishing's founder and CEO. "We want to give an accurate snapshot of the people and companies who are doing awesome things, period. INNOVATE NEW JERSEY is hugely exciting to us for this reason."
INNOVATE NEW JERSEY's chapters reflect sought-after thought leaders and the state's most notable industries. Each thought leader's piece reads like a TED Talk, focusing on that person's unique experience and what it has taught them about innovation. Thought Leaders include Jubin Kown of Montclair State University; Elizabeth Gearhart of Gearhart Law; Chuck Nees of Braswell Nees Group; Maureen Ruckelshaus of Morgan, Lewis & Bockius; Bob Harrell of Sparta Systems; Deborah Patton of Grant Thornton; Dan Hernandez of Lincoln Investment; Katie Patterson of TenFour; Chaya Pamula of PamTen; Rick Diana of EFD Sales Consultants; Chadwin Sandifer of Fairleigh Dickinson University; Vincent Schweikert of New Jersey Business & Industry Association; Norma Casabona of Casabona Ventures; Simin Cai of GoFoton; Wayne Tamarelli of AWT Private Investment; Jim Horton of The All Stars Project of New Jersey; Kelly Harman of Yorktel; Jasmeet Sawhney of Axtria; Jefferson Barr of Systech International; Brendan Kaplan of Brendan Kaplan Companies; Ryan Herd of Caregiver Smart Solutions; Joanna Rouse of NPower; and Bruce Molloy of SpringBoard.ai. TechWerxe, Zelis Healthcare, RSM USA, Edison Partners, and Valley National Bank are also slotted to contribute Thought Leader pieces, and Princeton Partners will lead off the Thought Leaders chapter.
Following the Thought Leaders chapter is Future Cities, featuring New Jersey Economic Development Authority (NJEDA); Rita Allen Foundation; TRI/Princeton; Give Something Back; The All Stars Project of New Jersey; and Global Connections Kenya. In the Consulting & Digital Consulting chapter: SpringBoard.ai; Solix, Inc.; Axtria, Inc.; D.G. McDermott Associates; Fintelligent; and Neutrino Advisory.
INNOVATE NEW JERSEY's Education chapter includes Rowan University; Montclair State University; New Jersey Council of County Colleges; Mercer County Community College; The College of New Jersey; Fairleigh Dickinson University; Kaizen Secure Voiz; Rutgers University; and NPower. In Hospitals & Healthcare are Yorktel; MedPro Wellness; Caregiver Smart Solutions; Teligent; MoleSafe USA; Admera Health; Medical Strategic Planning, Inc.; and Amicus Therapeutics.
INNOVATE NEW JERSEYS' Innovation Enablers section includes industries like marketing, law, accelerators, human resources, insurance, funders, investors, real estate, tax management, and more. Specific companies include HS Design; Gearhart Law; Hope Trust; Braswell Nees Group; RSM USA; PamTen; Edison Partners; GHO Ventures; Morgan, Lewis & Bockius, LLP; Sparta Systems; Grant Thornton; Lincoln Investment; Valley National Bank; Reflik; Rangam Consultants, Inc.; Regional Personnel; TenFour; Princeton Power Systems; New Jersey Manufacturing Extension Program, Inc.; New Jersey Business & Industry Association; Greater Newark Enterprises Corporation; Cook Maran – A Prime Risk Partner; Gibbons P.C.; DLA Piper; McCarter and English; Moser Taboada Law Group; Integro; EFD Sales Consultants, LLC; Marketsmith; Advance Realty; Avison Young; and The Garibaldi Group; Ernst & Young; Cambridge Capital Corporation; PriceWaterhouseCoopers; and BDO.
The Technology and Product Innovations chapters boast equally impressive rosters with Princetel; Bitbean; ECI Technology; 1Huddle; EverythingBenefits; Agilence; SmartIMS; Kaizen Secure Voiz; Polygenesis; Universal Display Corporation; Velocit; Artezio LLC; GoFoton; Berkeley Varitronics Systems, Inc.; V-COMM, LLC; Systech International; InCharged; Axians; Princeton Climate Analytics; Greenlight Technologies; Phone.com; Invonto; Maestro; and ASB Resources.
INNOVATE NEW JERSEY participants worked with Global Village Publishing's in-house production team to create their stories. In a digital age, the timelessness of a book solidifies participants' legacies.
Sven Boermeester, CEO of Global Village Publishing and an avid traveler, conceived of creating the coffee-table books as "love letters" to different cities he traveled to. Boermeester opened his first media company upon completing his business studies in Cape Town and since then has published over 183 INNOVATE and BEST OF editions across 60 countries.
Carel "Callie" Van Graan, Global Village Publishing's COO, possesses a similar wanderlust. As a serial entrepreneur with deep experience in marketing, branding, and logistics—and having traveled the world with his family—Van Graan is well-suited to bringing the INNOVATE series into being.
"Global Village's books really reward a closer look into the cities they feature," Van Graan says. "This is especially true of INNOVATE NEW JERSEY."
INNOVATE NEW JERSEY will be available through Amazon and on the Global Village Publishing website next spring.
ABOUT GLOBAL VILLAGE PUBLISHING
Global Village Publishing produces high-end, tech-enabled coffee-table books that feature cities around the world. Its series include INNOVATE—which celebrates the innovators and innovation enablers that make a city awesome—and the BEST OF series, each book a snapshot of the people, places, and businesses of different global locales. By teaming up with publishing partners on the ground in the cities featured, and by ditching the pay-to-play publication model, Global Village Publishing captures the ecosystem of a place and sees the world as an ever-growing tribe of entrepreneurs, colleagues, and friends. Learn more at https://globalvillage.world.
Release ID: 88909258