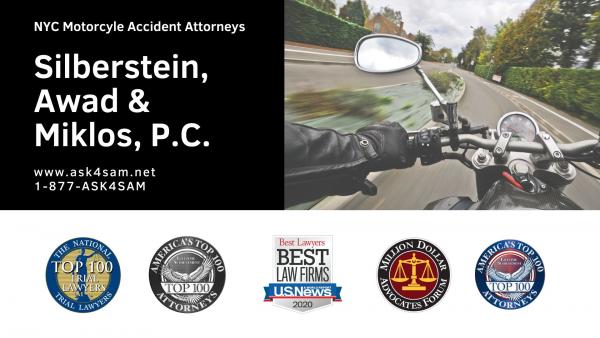 - February 5, 2021 /PressCable/ —
Every year in the U.S., thousands of injuries and even deaths are caused by defective or dangerous products that have not been properly inspected. "Product Liability Law" is the set of legal rules concerning who is responsible for defective or dangerous products. This is not to be confused with ordinary injury law. This is what allows those who have been injured to recover quicker from their losses, whether personally or financially. This ensures that manufacturers should hold a high standard when making their products so that hopefully, no one gets hurt. But what does one do when they are the unfortunate victim of these products?
Any time individuals in New York City are hurt or injured resulting from defective products, or negligence in manufacturing, they should immediately consult a product liability lawyer who can help with their case. Silberstein, Awad and Miklos is a firm based in New York that has achieved dozens of multi-millions dollar verdicts in the years they have been in practice. They are known for never backing down and fighting for their clients until they have secured their victory and their settlement. They have a proven track record and take on clients with cases that are too difficult for others to handle. The firm takes on a case and does not require any upfront fees or payments, and only charge their clients when a favourable settlement is won. Visit https://ask4sam.net/ for a free consultation.
When filing for a product liability claim, one should be seeking damages for the losses and damages caused and expenses paid for them. The most common of these include medical costs, permanent total or partial disability, loss of income, loss of future earning capacity, property damages, pain and suffering, and loss of consortium.. These can all result from improper handling of the product but each case varies depending on the situation. There are also different types of product liability cases that one should be aware of when filing a case. These range from negligence, strict liability, breach of warranty and product defects. Negligence is one of the most common cases and is caused when a manufacturer, distributor, or retailer was negligent in selling an unsafe product. Strict liability occurs when the nature of the product itself is dangerous to its users. In these cases, the manufacturer has to answer for the lack of care in making the product.
The basic types of defects that can lead to unsafe products are defects in design, in manufacturing and insufficient instructions or warning. Defects in design occur when the product's design or blueprint can lead to danger even if manufactured right. Defects in manufacturing happen when there was a mistake made when manufacturing the product, and the incorrection resulted in the injury of a user. With insufficient instructions or warnings, they occur when the manufacturer fails to include all the necessary information in the product label or description. Especially with products of a dangerous nature, it is imperative to include all necessary precautions and warnings to avoid unnecessary incidents which lead to lawsuits.
In the state of New York, the statute of limitations on product liability claims is three years from the date of the accident. Some cases may have exceptions made but it is always advisable to get into contact with an attorney right away when facing a product liability lawsuit. It is crucial to have a law firm working on the case one is facing with the utmost dedication. Silberstein, Awad & Miklos are equipped with a team of seasoned lawyers who have faced numerous product liability cases and have come out victorious.They analyze their cases meticulously and strategize a plan to ensure that the maximum compensation available to cover all damages incurred and hold the liable party accountable for paying them.
Release ID: 88996149