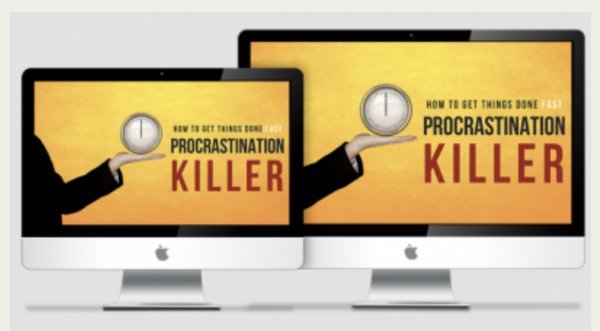 - May 16, 2021 /PressCable/ —
It's Achievable Academy, a business coaching, education and change management platform, has launched 'Procrastination Killer', a new course designed to help business professionals optimise their working strategies to eliminate bad habits and sustain growth.
More details can be found here https://its-achievable.learnworlds.com/course/procrastination-killer
The newly launched course discusses the science behind procrastination, how to harness the mind to become productive and offers tips and techniques to increase mental focus and productivity.
According to Real Simple, science suggests that procrastination can be attributed to a battle between the mind's unconscious limbic system, which also houses the pleasure centre, and the prefrontal cortex which enables people to integrate information and make decisions.
Procrastination Killer takes approximately 2 hours of study time to complete. As an alternative to the text version, subscribers can access an hour-long video if they prefer. The course contains elements of self-assessment and a certificate is awarded upon finishing the program.
The course uses real-world examples of successful entrepreneurs, business leaders and other leading professionals, enlightening subscribers as to how they can overcome procrastination issues to succeed in their field. Participants also learn how they can use the urge to procrastinate in a positive way, to increase their focus and work rate through a series of productivity hacks.
Course materials include an ebook guide which can be downloaded at no extra cost to subscribers, as well as a Mindmap and checklist for guidance and motivation beyond completion of the program. Procrastination Killer also includes a module on effective time management techniques, tailored to the needs of the modern business owner.
It's Achievable Academy is the work of Michael Cassar, an expert management consultant and change agent with over 30 years of experience in the field. Michael has worked with numerous organisations across a range of sectors including business, non-profit and fundraising. The Academy is committed to making innovative educational content accessible to everyone.
Michael says, "Discover the strategies to get rid of procrastination and get things done fast."
With the launch of Procrastination Killer, Michael Cassar and It's Achievable Academy affirms its commitment to putting productivity into the hands of individuals, business professionals everywhere. For more information please visit https://its-achievable.learnworlds.com/course/procrastination-killer
Release ID: 89015112