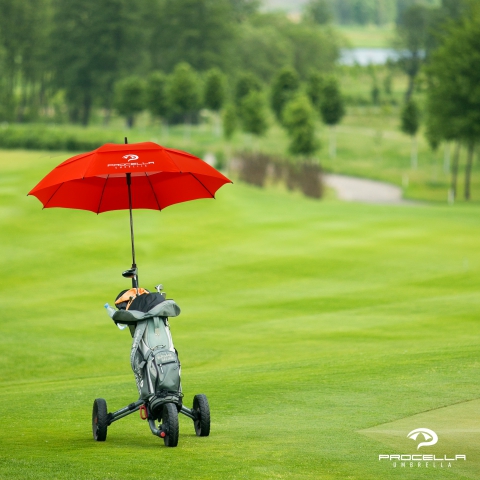 - August 24, 2017 /PressCable/ —
Las Vegas –– Procella Umbrella, the company which makes some of the most popular, highly-praised umbrellas on the Internet, announced today that it is introducing a new red colored version of its popular 62" Golf Umbrella. The red color choice is the latest in the series of 62" auto-open umbrellas which feature a strong fiberglass shaft/rib design along with a double-vented canopy. Considered nearly unbreakable and windproof, it has been tested in an aerospace wind tunnel by skydivers at wind speeds of up to 46 miles per hour.
"Procella Umbrella is launching this color based on customers' requests. Red was one of the top wished for colors in a recent survey conducted by the company," said a spokesperson for the brand. "The large red umbrella provides the same premium protection from sun, wind and rain. And gives its owner flair and style when out in the greens!"
Procella also notes that the Red 62" Golf Umbrella is not just for golfers. It can serve as weather and sun protection for everyone. "It's a good companion for the great outdoors," the spokesperson added. "Take it while walking the dog or watching a favorite sports. It's a great sun shield for a picnic, too." The company suggests the umbrella as a gift for family and friends, especially for those who play golf.
Procella's umbrellas have been a proven hit with consumers, who have pushed the brand to Number One Bestselling status on Amazon. Customers have expressed enthusiasm for the rugged, high-quality construction of the Procella Umbrella. Unlike most umbrellas, Procella does not break even in strong wind.
The company credits this capability to its unique approach to wind resistant design, diligent focus on manufacturing and its use of high-quality materials. For example, the umbrella has a unique inner flap design that forms an airfoil to mitigate the impact of strong winds on the structure of the umbrella.
In addition to the new red color, the 62" Golf Umbrella is available in traditional black, grey and navy blue as well as color combinations of green and white, red and white, black and white and royal blue and white. The umbrella has the following dimensions: Canopy – 62 inches; Length – 39 inches; Width – 52 inches. It weighs 1.7 lbs. The umbrella sells for $33.99, a sale price.
The 62" Golf Umbrellas are covered by a "Limited Lifetime Guarantee". If a customer finds that his or her umbrella is broken, they don't have to ship it back to Procella. If they have registered their umbrella online, the customer can simply contact Customer Support to initiate the guarantee process.
The 62" Red Umbrella is available on Amazon.com and the Shopify Store.
About the Company
Procella Umbrella, the company that makes some of the most popular, highly praised umbrellas on the market. For more information about Procella Umbrella, please visit http://www.procellaumbrella.com/
Release ID: 232527