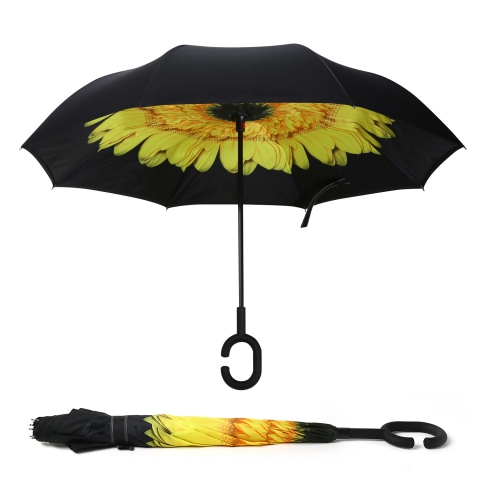 - May 25, 2017 /PressCable/ —
Procella Umbrella, known for making some of the most popular, highly-praised umbrellas on the Internet, announced today that it is introducing a new Premium Double Layer Inverted Upward Folding Umbrella. Envisioned as a fashionable alternative umbrella for women, the Inverted Umbrella is available on Amazon.com. It features a C-shaped hands-free handle, a lightweight and windproof but sturdy construction. Each umbrella comes with a distinctive internal design on its underside, which is shown on the exterior when the umbrella is closed.
"Rainy weather has some redeeming values, no matter what people say," said a spokesperson for Procella Umbrellas. "Think of it as excuse to show off a beautiful and stylish umbrella. That's the goal with this inverted design. It stands out. It's also a great way to stay dry."
Procella's new windproof Premium Double Layer Inverted Upward Folding Umbrella is constructed from UV-resistant and sturdy fabric. The product offers unparalleled protection from both wind and rain. It has a 52-inch canopy and weighs 1.2 lbs.
The Inverted Umbrella features an upward folding design. It hangs closed, rather than folding up like a typical umbrella. With this design, it does not drip when used. The distinctive C-shaped handle allows the user to carry the umbrella on the forearm, leaving both hands free.
The umbrella comes with multiple underside designs. Choices include blue sky and clouds, daisies and sunflowers. "Not only do they function well – they look great, too! So great, in fact, that they'll be wishing for rain, so that there would be a reason to use it," the spokesperson added. The colorful inside design becomes the exterior design of the umbrella when it is closed. For instance, the user will appear to have a blue sky style accessory hanging off her arm when she walks with it closed.
The company is famous for making high-quality umbrellas that rest even very strong winds. They are particularly renowned for their 62" golf umbrellas, which are wind-tunnel tested at up to 46 miles per hour. As a result, Procella umbrellas have been a proven hit with consumers. Strong sales and positive reviews have pushed the brand to Number One Bestselling status on Amazon.
The Procella Premium Double Layer Inverted Upward Folding Umbrella is available on Amazon.com. The umbrella is now offered at a special, limited time sale price of $24.99, a 37% discount off the regular list price of $39.95. Free shipping is available on orders over $25.00.
About the Company
Procella Umbrella, the company that makes some of the most popular, highly praised umbrellas on the market. For more information about Procella Umbrella, please visit http://www.procellaumbrella.com/
Release ID: 202615