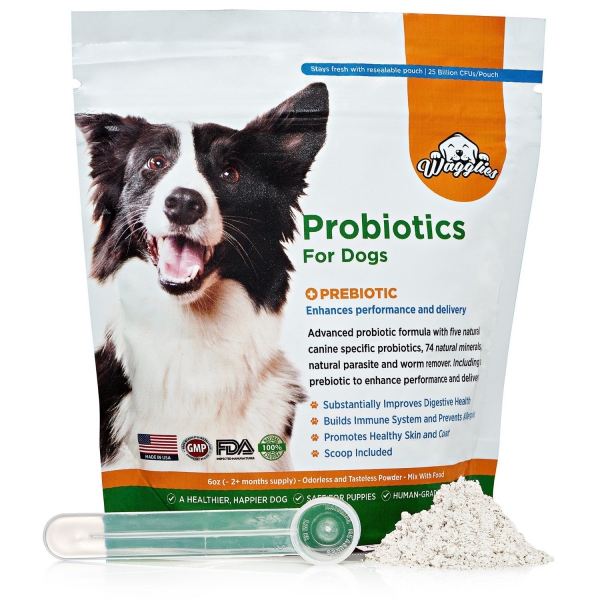 - June 22, 2016 /PressCable/ —
Since launching their Probiotics for Dogs, Wagglies have achieved multiple product milestones and have received many batches of customer feedback. The new probiotics were released onto Amazon USA in April of this year and have now reached 600 product orders.
"We are over the moon to reach 600 product orders so quickly after our launch." said Dan Clayton, Founder of Wagglies, "The success that we have seen with our dog supplements is exactly what we hoped for and we are so grateful to customers in the USA for giving our powder probiotics a try."
Wagglies' Probiotics for Dogs are a custom powder formulation that contains 5 strains of probiotic and 1 added prebiotic. The prebiotic enhances the effectiveness of the probiotics by encouraging healthy bacteria to grow in the gut and intestines. The powder probiotics also contain 25 billion CFUs and 74 trace minerals.
Quality control is something that Wagglies take very seriously and each batch of their Probiotics for Dogs is made in a GMP and FDA approved factory in the USA. These safe factory conditions allow the brand to carefully monitor each and every batch of their products as it is produced.
"We have gained a loyal customer base very quickly as our customers recognise our dedication to quality and consistency." continued Dan, "We ensure that our customers feel welcomed and valued and we strive to take any and all of their feedback on board so we can continue to improve our product."
The brand have previously seen success with their Dog Nail Clippers, a product that was successfully launched into Amazon UK, USA and select marketplaces across Europe. Wagglies' first product, Puppy Training Pads, was released in summer 2015, allowing the brand to gain crucial experience on Amazon before launching their more targeted products.
Wagglies Probiotics for Dogs are now available in a 6oz bag (∼ 2+ months supply) from Amazon USA: http://www.amazon.com/Wagglies-Probiotics-Dogs-Pre…
Release ID: 119186