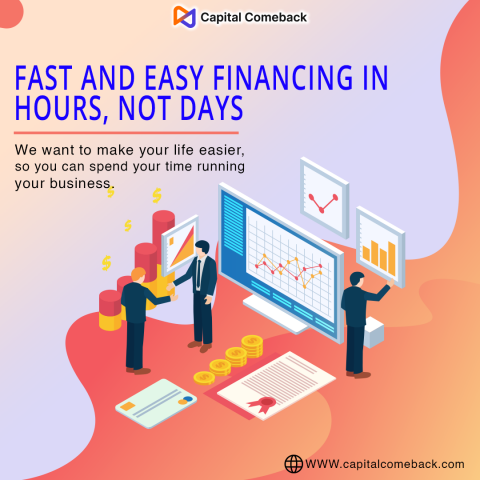 - December 31, 2020 /PressCable/ —
Funding website Capital Comeback has launched new services to support growing businesses with affordable funding. The company is designed to make the process of applying for financial help easier and faster for customers.
For more information, visit the website: https://capitalcomeback.com
Funding a business is expensive and time-consuming, and upfront capital can help small businesses grow and thrive. Capital Comeback is launched in response to the increasing financial difficulties faced by many businesses.
The global pandemic has caused many economies to struggle and has halted income streams for many workers and businesses. Increasing numbers of people are in need of immediate support, and many more people are looking towards taking out loans in order to support their work. But as a busy business owner, searching for multiple funding opportunities can take significant time and effort.
Capital Comeback has designed its services to understand the independent needs of business owners, with the company dedicated to finding suitable solutions for each client.
The services Capital Comeback provides include small business loans and term loans for specific investments. Financial solutions are tailored to the specific needs of customers.
The company aims to support clients quickly, efficiently, and with no hidden fees, penalties, or restrictions. Funds can be shared in as fast as four hours, on the same day of application.
There are no restrictions on what the funds are spent on. Clients typically use the revenue to help take care of payroll, taxes, inventory, expansion, invoices, and improvements.
The evaluation form provides the various options available for each potential client. The form is free to fill in and is available on the Capital Comeback website.
The minimum requirements for application state that a company must have been in business for at least two months before applying for financial support, and have a minimum credit score of 450. Capital Comeback exclusively uses a soft credit pull.
A spokesperson from the company said: "We'll be with you every step of the way. We know how daunting it is being in the dark and our focus is to help you out step by step. We will look for the best possible offer for you and we'll present to you the best terms we can find."
Interested parties can find more information on the website linked above.
Release ID: 88991781