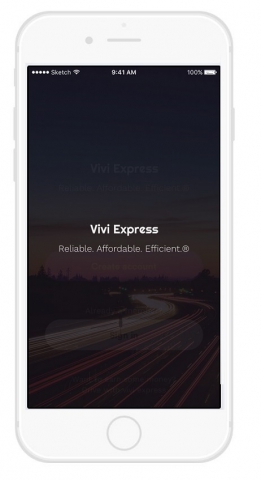 - October 18, 2017 /NewsNetwork/ —
Atlanta, Georgia-based ViVi Express Technologies Inc., have released their patent-pending parcel delivery app and business method that reduces delivery costs for businesses and individuals. Plus, this revolutionary app has the potential to create jobs across America with the hiring of a network of qualified drivers to deliver packages to their destinations. Using a unique business model, ViVi Express is now on the hunt for investors to take this remarkable project to the next level.
More information is available http://viviexpress.com.
Recently released, this parcel delivery service and same day priority delivery app enables package delivery within hours. Customers can track their package in transit via GPS. So, they will see their package leave their office or home and travel to its delivery destination. Plus, they will get an estimated time of arrival.
Customers can also review driver reputations and recommendations, send multiple or various package types, and can set their day and time of pick-up. Also, customers can print labels, receive driver ID and can review their savings on all packages sent. The ViVi Express app enables customers to know when and where their packages are at any given time, so they do not become unnecessarily concerned about priority deliveries and later-than-expected delivery times. Plus, all drivers must pass rigorous security clearance, before being accepted by ViVi Express.
Those looking to become their own boss can also use the app to generate income. ViVi Express helps drivers break free of the 'driving for someone else routine' and assists in the development of self-employment. Knowing that every second counts when delivering packages.
Drivers can also track their financials – clock in and out, coverage area, job notifications – available, incomplete and number of jobs completed, multiple job location and availability, daily, weekly and monthly earnings, and payment status – pending, processed or sent.
With real live-tracking, the ViVi Express app keeps business, individuals and delivery drivers connected. As such, this visibility creates smoother pickups and drop-offs.
ViVi Express Technologies Inc., is a business that aims to help others to function more productively. Thus, they offer a full range of services that simplify daily operations. The ViVi Express app is just one of these developments, and as a new project, ViVi Express is now seeking investors to help in getting this project to the next level.
When asked about the investment opportunity that ViVi Express Technologies offers, a spokesperson for the company said, "Our patent pending app resolves the problem of paying high cost prices for same day priority delivery services. At the same time, it also helps drivers to become self-employed and work the hours they want when they want. Our investment opportunity includes our marketing strategy incorporating PPV, PPC and CPV advertising, online display, and search, retargeting online ads and social media retargeting. We are now looking for partners to move this project forth so it can reach its fullest potential."
To find out more about ViVi Express Technologies and their Express app visit the link above. Investors please contact anderson@viviexpress.com for more information.
Release ID: 252064