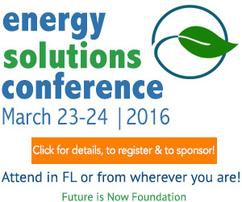 - March 14, 2016 /PressCable/ —
Energy issues have been the subject of Presidential candidate statements for 2016 Democratic and Republican contenders alike. A national Energy Solutions Simulcast will tackle topics they have raised, including a host of pressing concerns. The several part event kicks off March 23-24. Access is by computer, mobile device or in person. Energy-related views voiced by candidates in recent months are noted on the event Website (Home page – Energy Policy).
The environment and climate change, jobs and the economy, national security, consumer spending, citizen empowerment and sustainability are among the issues and needs to be dealt with as part of this landmark event.
Renewable energy and alternative fuels will be in the spotlight on March 23 – 24. National experts in solar energy, bio-energy and other renewable energy will present along with specialists in transportation alternative fuels, distributed energy and planning for sustainable communities.
The program includes sessions for professionals with business and industry, professional associations, nonprofits and government as well as general audiences. Online participation is easy and allows for attending any and all sessions of interest.
The event is being hosted by the Future Is Now Foundation as the third in its series of successful virtual energy conferences. The April Track will focus on energy efficiency, green buildings and green business operations.
According to conference chair, Marcia Elder, "The theme of the event is SOLUTIONS and many energy solutions are available now".
Agendas for the March and April Tracks are here: Energy Solutions Simulcast Program
Registration is here: http://conference.energysmartplanning.org (Registration tab) and the event is priced for all budgets – those who can't afford to pay can even set their own.
The Future Is Now Foundation, established in 2002, is a Florida-based non-partisan, nonprofit that hosts educational programs on topics that matter for the future and now.
Release ID: 106917