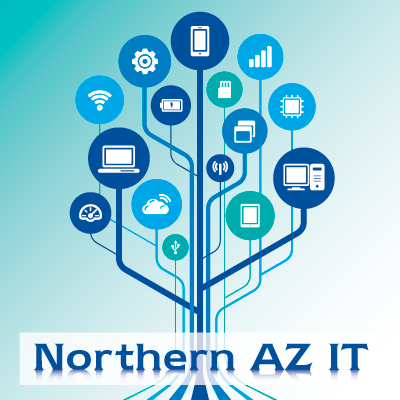 - June 27, 2018 /PressCable/ —
Northern Arizona IT, a Prescott, AZ managed IT services firm, serving clients in Prescott, Prescott Valley, Chino Valley, Dewey-Humboldt and others, warns small business network security vulnerable to cyber attacks.
More information can be found at http://www.northernazit.com/
Small businesses suffered a barrage of unchecked cyber security attacks last year. As, according to a survey by insurer Hiscox, 47% of small businesses suffered a network security attack in 2017, with 44% reporting to multiple computer invasions.
However, despite the rampant menace, most businesses reported to not having taken an action to upgrade their network security or involve managed IT services.
The invasions included ransomware and drive by attacks, where seemingly legitimate emails were used to steal important information, infecting websites and computers which visited them, making them usable only after a ransom is paid by the owner.
The report further states that only about half the small businesses boasted of a clear cyber security strategy, with nearly two thirds not bothering to upgrade their network security even after the attack.
As per Hiscox, seven out of ten businesses are not prepared to handle cyber attacks, even though they can cost businesses thousands of dollars, bringing them to a point of shutdown.
The vulnerability mostly can be attributed to lax network security systems, while small business owners mostly are busy with other aspects of business, or feel they cannot afford the added cost of an upgraded or managed IT services.
However, this is a huge cause of concern for small businesses, as compromised network could turn out to be much more expensive and damaging for the business.
"Small businesses should act now to protect their computers and networks because it costs pennies compared to a breach that can literally put them out of business", says Theo Soumilas, the lead at Northern Arizona IT.
Northern Arizona IT, a managed IT services firm in Prescott, Arizona helps small and medium businesses fight against cyber threats using latest technology and network security solutions.
Soumilas further states, "Majority of cyber hackers are indiscriminate; they look for vulnerable computer systems using outdated technologies, making small businesses an easy target."
Clearly, a thing to worry about for small businesses using outdated technologies lacking the sophistication to keep hackers at bay.
As part of their managed IT services, Northern Arizona IT installs the best of the industry AntiVirus and security services on client computers and servers, updating the system patches to make sure that every computer system in the business is secure.
Free consultations are available from Northern Arizona IT by contacting Theo Soumilas at (928) 719-7724 or by visiting their website at http://www.northernazit.com/
About Northern Arizona IT:
Headquartered in Prescott, Arizona, Northern Arizona IT services companies in Prescott, Prescott Valley, Chino Valley, Dewey-Humboldt, Flagstaff and other locations. Theo Soumilas has been an IT specialist for over 10 years servicing clients from small businesses to medium-sized organizations.
Media Contact
Organization: Northern Arizona IT
Name: Theo Soumilas
Address: Prescott, AZ
Phone: (928) 719-7724
Release ID: 366768