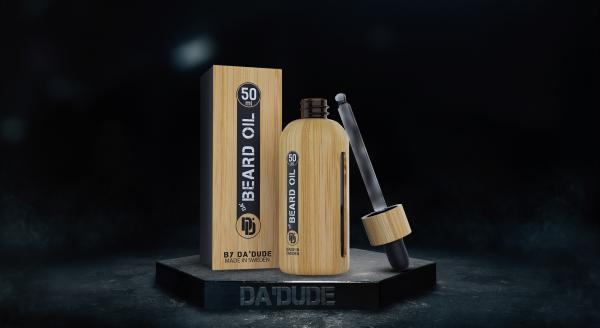 - April 5, 2021 /PressCable/ —
London-based hair product company Da'Dude have released their latest product, a beard growth oil and moisturiser for customers looking for softer, sleeker facial hair.
More information is available at https://www.einnews.com/pr_news/537496616/beard-o-il-by-da-dude-presented-in-a-unique-bamboo-cased-bottle
The new premium oil, named Da'Beard Oil, has been released for customers with brittle, dry, or rough facial hair that are wanting to look after their beards.
Beard oil is used to moisturise and soften beard hair, while also moisturising the skin underneath. It keeps beards looking fuller, softer, and easier to tame and even promotes beard growth. Da'Dude's new product has been created with those goals in mind, as well as getting rid of acne, dandruff, and itchiness.
The fast-absorbing oil is made using a vegan formula and is completely plant-based. The ingredients include argan oil, jojoba oil, and safflower seed oil, known for their soothing effects on hair. It also includes tocopherol which is the form of vitamin E that is readily absorbed by human skin, squalene which is responsible for skin moisturising and is naturally produced by the human body, and beta-sitosterol, a natural anti-inflammatory that may help with dermatitis.
The product comes in a unique bamboo bottle, which has a patented design not found on any other product. The fragrance is subtle and fresh, so will not clash with aftershave or cologne, and is alcohol-free so will not cause irritation.
Da'Dude have a wide range of other hair care products for men, including their Da'Wax hair wax, Da'Hairspray, Da'Salt Water Spray for volume, and Da'Power Powder for styling.
The company also sells a range of products for women, under the YoungHair brand. This range includes products such as root touch-up hair dye, and saltwater hairspray volumizer and styler.
The small family business was started by Angelika Young and her husband, a professional hairdresser who wanted a better range of professional products after taking over her mother's salon.
One satisfied customer said: "This is great stuff, the condition of my beard has greatly improved since using Da'Dude and no overpowering scent. My beard is soft and stays very neat despite it being quite large."
Interested readers can buy Da'Beard Oil on Amazon at https://www.amazon.co.uk/DADUDE-Beard-Oil-Moisturiser-Conditioner/dp/B019MTGUTY, or on their Amazon store page at https://www.amazon.co.uk/stores/page/99BFFA45-E8EB-477E-B3C7-CAA79C1D5592
Release ID: 89003862