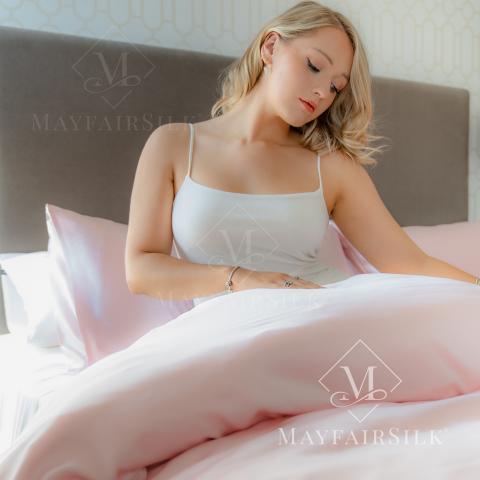 - February 24, 2022 /PressCable/ —
The latest report from the high-end brand provides customers with guidance on how to understand and select the correct momme for their needs, alongside tips on colour choice, duvet pairings, and how to care for the premium fabric.
More details can be found at https://mayfairsilk.com/pages/benefits-of-silk
MayfairSilk's recently released report further supports the company's goal to help customers achieve a better quality of sleep, through bedding made with luxurious premium fabrics.
The report comes following another win for the brand, named Most Outstanding Bedding Store 2022 by the SME News Business Elite Awards. The company's commitment to better bedding and better sleep is emphasised as the article begins, outlining the other fabrics many customers may have tried to improve their shut-eye – and explaining why silk is a superior option.
The brand's experts understand that an investment in premium silk bedding is a big step, and therefore the report goes on to provide details on the important things to look out for before purchasing. Initially, the company outlines 'momme' and explains that it is a weight measurement for silk that's similar to the thread count consumers check before buying cotton sheets. The author points out that the higher the momme of silk, the heavier it will be since more silk is used in its creation – and therefore it's likely to be more costly.
However, the author also goes on to discuss the middle ground between comfort, durability, and affordability that comes with sheets from MayfairSilk, which most often use 22 and 25 Momme Mulberry silk. Later, the report also discusses the effects of colour choice on mood, and how certain colours can be more soothing around bedtime, so the palette of one's bedding is important. The experts at the company then state that blue has been found to have a calming effect, and could positively impact the quality of sleep – in comparison to colours such as purple or brown, which could have the opposite effect.
MayfairSilk's report also discusses the importance of properly caring for silk bedding, and praises the fabric's dust-mite repelling properties, meaning it does not require washing as frequently as other materials. The article does emphasise that customers should check the specific product instructions, though.
Interested parties can find out more at https://mayfairsilk.com/
Release ID: 89065557