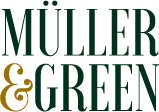 - November 20, 2018 /NewsNetwork/ —
Small and medium-sized businesses from across the world are now able to receive the benefits of a revolutionary European-based PR service, named Muller & Green. The company, which recently went public, after providing exclusive services only, has already made a statement on the PR market by launching several successful campaigns. Some of the initial clients which Muller & Green took under their wings and successfully launched are the unique crowd wisdom platform FXBrokerFeed and the direct hotel booking solution Merlot.
Muller & Green has established a name for itself due to its personalized and careful approach to their clients and innovative PR management software. The PR company offers tailored services, combining the latest technological innovations in Public Relations. Clients from various geographical locations and industries are now welcomed to take a look and request Muller & Green's PR assistance at the following page: https://mullerandgreen.com/services/
"Muller & Green is flexible, and we offer a great number of services, which can be combined in any way desirable for our clients' objectives and budget. "says the team of M&G.
Some of the services, offered by the innovative new PR company, include:
– Editorial: Press Release or Article written and/or edited by our team of professional content managers.
– Publication: Muller & Green has a solid network of publishers and capabilities, ensuring that news of your business will get featured on respectable websites and blogs, related with your business field.
– Media Reach-Out: With a database of over 1.5 million journalists/bloggers and influencers of any business field and location, M&G can reach-out to them with news and press releases at any given time.
– Social Media Blast: Muller & Green can pitch your offer to hundreds of discussions on Facebook and Twitter and engage with potential clients.
– Social Media Management: Muller & Green's innovative social media monitoring service allows businesses to see what people say about their brand on all major social media platforms. The platform also allows scheduling and publishing social media posts.
To celebrate the official public launch, the PR company is now offering a huge discount to its new clients. By entering the promo code MGLAUNCH50 in the subject line of Muller and Green's official contact form – https://mullerandgreen.com/contact/ , the client will receive a 50% discount on Muller & Green's Launch Service Package.
For further inquiries, information is available at the following pricing page: https://mullerandgreen.com/pricing/
Release ID: 446217