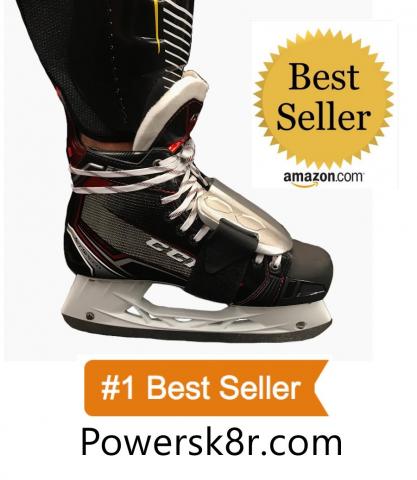 - January 14, 2022 /PressCable/ —
Since its launch nearly 15 years ago, PowerSk8r has consistently held presence at ice hockey tournaments around the country. For both child and adult skaters at every level, the bestselling skate-weight training tools have proven to be powerful assets in skill building. The company looks forward to connecting with parents, children, and coaching personnel at this weekend's event in Wesley Chapel, Florida.
The 1st Annual Mid-Florida Meltdown Hockey Tournament is a youth-specific event for U10-U18 teams. It is one of the many tournaments put on by Blue Line Tournaments. A total of 54 teams will be participating at the venue, Advent Health Center Ice. "We have a passion for youth hockey that we hope will translate to fun, exciting and competitive youth hockey tournaments" says the organization's Facebook page mission statement.
PowerSk8r's skate weights were designed to increase strength, speed, and overall performance on the ice for skaters at every level – amateur to pro. The Carolina Thunderbirds, 2019 Commissioner's Cup Champions, added them to their training regimen last year with the goal to increase players' speed. Nationally, 18 state championships have been won after coaches included PowerSk8r skate weights in their team's training and conditioning routines. They are designed to not only increase strength and speed, but to raise the skater's awareness of the mechanics of his/her stride. Click here for endorsements and more information.
The weights are simply attached on top of the skate with a durable hook-and-loop Velcro binder. To meet the needs of players of all ages/sizes and skillsets, they are available in ½-pound and 1-pound weights and are sold separately or in bulk (at discounts) for teams.
"I've gotten so much positive feedback from parents and from coaches of teams at all levels on the effectiveness of PowerSk8r," says Founder Sean Halpin of Halpin Designs. With a 30-year background in automotive and aerospace design, his company has brought multiple products to diverse markets. "Getting to see young skaters evolve their skills with our skate weights is a joy." Halpin looks forward to connecting with more of the community at his company's display during this weekend's tournament.
Learn more here: https://powersk8r.com/
Release ID: 89059979