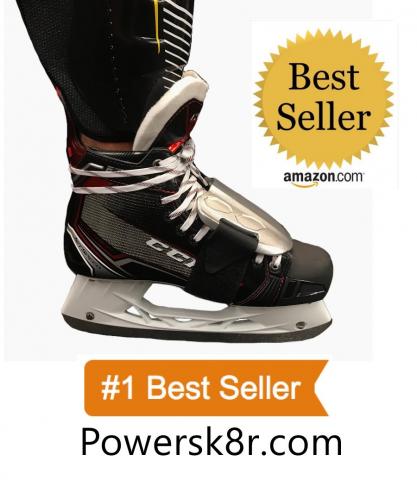 - February 8, 2022 /PressCable/ —
PowerSk8r has seen tremendous growth since its launch over 12 years ago, including ranking as an Amazon Best Seller. The company's participation in Florida's 1st Annual Mid-Florida Meltdown Hockey Tournament in January brought yet more professional endorsements and support for the unique skate-weight training tools.
Referee Shawn Chase has nearly 20 years of experience on the ice, first playing on ice hockey teams and eventually refereeing. He has a thorough understanding of what is required to build skills in the rink. After speaking with the Founder of PowerSk8r, he put the skate weights to the test, strapping them on his skates and refereeing an entire game. "It's a great invention!" he shared, coming off the ice. "If you're trying to get fast, especially kids, you need 'em NOW." The interview is posted here: https://youtu.be/eNJEx39-LUY?t=152
Chase said he felt the burn in his quad muscles after just four strides and that the benefits of training with them consistently would clearly bring tangible improvements. He credits PowerSk8r's unique design with their benefits. Typical skate weights attach under the skate. PowerSk8r weights attach to the top of skates, which builds more leg strength. Chase said he has used the typical skate weights in the past and experienced minimal results. "With these, my legs were burning after the first four strides. You train with these for a whole season, and there's no stopping you!" Another benefit is that the weights block any impact from pucks or sticks the laces – ankles and tops of feet -, which also helps speed and performance.
Chase's experience reflects why the Carolina Thunderbirds, 2019 Commissioner's Cup Champions, added them to their training regimen last year, and why over 30 state championships have been won by teams that have included the skate weights in their training routines.
Referee Chase says he is actively spreading the word to skaters, parents, coaches, and fellow referees. "We're excited to be aligned with him and look forward to hearing more success stories from skaters at every level," says Sean Halpin, Designer and Founder of PowerSk8r.
Learn more here: https://powersk8r.com/
Release ID: 89063061